Contacts and directions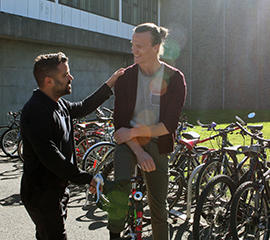 Karina Zobolotny

TeenWork Program Manager

P: 250-721-7670

C: 250-886-7181

Melissa MacEwan

TeenWork Job Coach

Sacha Stewart

TeenWork Job Coach

P: 250-472-5954

Shania Eilander

TeenWork Job Coach

P: 250-721-7211
For general inquiries, please contact:
Phone

250-472-4795

Email

teenworkatcanassist@uvic.ca

Mailing address

TeenWork

CanAssist, University of Victoria
CARSA, PO Box 1700, STN CSC
Victoria, BC
V8W 2Y2

Driving directions

CanAssist and its TeenWork program are located at UVic in a building called the Centre for Athletics, Recreation and Special Abilities (CARSA), which is located at the corner of McKenzie Avenue and Gabriola Road.

If you are approaching UVic from McKenzie Avenue (heading east), you can park in two nearby places: the first is the CARSA parkade, which is accessed by turning right onto Vikes Way from McKenzie; the second is by turning right onto Gabriola Road from McKenzie and then left into parking Lot 2.

If you are taking UVic's Ring Road, turn right from the Ring onto Gabriola Road. Then turn right into Lot 2.

View a parking map of UVic's campus [PDF - 2.8 MB] (the CARSA building is blue and located near the top of the page in the centre). View an accessibility map of campus[PDF - 1.9 MB].

Parking pass dispensers, which accept cash and credit cards, are located in each lot. There are also parking meters alongside the Campus Security building in Lot 2.
How youth can participate in TeenWork:
Eligible teens can self-refer, be referred by an education or health-care professional, or have their parent(s) or guardian(s) apply on their behalf. The first step is to print off, fill out and submit the:

Youth Employment Referral Form [PDF - 554 KB]

The completed form can be faxed to 250-721-7299 or sent by regular mail to TeenWork at CanAssist, University of Victoria, CARSA, PO Box 1700, STN CSC, Victoria, BC, V8W 2Y2.
*Please note: TeenWork is a small-scale pilot project with limited participant capacity
Go to Top