Employer spotlight: Peninsula Co-op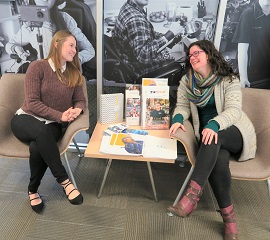 March 2015 TeenWork Employer Spotlight
:
Peninsula Co-
op
Since early 2011, Peninsula Co-op and TeenWork have worked together to provide employment opportunities for youth with disabilities in the community while also meeting the demands and objectives of running a highly successful business.

Whether it has been at the Peninsula Co-op Commercial Cardlock or the Co-op Food Center (both at the Keating Cross Road location), the organization has been a leader in working with the TeenWork program, providing youth with excellent opportunities to engage through work experiences or paid employment, while continually showcasing a positive and proactive business approach within the community.

One of the current Co-op employees and TeenWork participants is Justin, a young man who started working at the Co-op Food Center in January in the dairy, meat, deli and produce departments. Since starting, several Co-op employees have noticed a marked improvement not only in the maintenance and operations of the store but also in the attitudes and morale of many other Co-op employees.

Grocery Department Manager Stacy has had nothing but positive things to say about Justin and the overall experience of working with the TeenWork program.

"Justin has been fantastic!" Stacy says. "With all of the recent renovations, all hands have been needed on deck and Justin has really helped to improve the look and morale of the Co-op Food Center and its employees.

He adds that the partnership between Co-op and the TeenWork program has worked well for both parties.

Another manager at the Co-op Food Center, Jen, says Justin has "helped take pressure off" many of the departments in the store as well as helping to "maintain the clean, friendly and community-focused image of the Co-op."

"Bringing Justin on and having him work with so many people has been beneficial for positively influencing other employees with his attitude, work ethic, and willingness to help wherever he can," Jen says. "Justin's influence is also felt in giving employees the beneficial experience of working with someone who has special needs and seeing and feeling the positive impacts associated with having Justin on the team."

The relationship between TeenWork and Peninsula Co-op is not new. Several years ago, the Co-op hired Drew, another young man who benefitted greatly from employment. After more than four years, Drew continues to hold a position at the Cardlock.

In both instances, Peninsula Co-op has been open, willing and proactive in working with the TeenWork program.

Thank you, to our friends at Peninsula Co-op for working with TeenWork and for being such a positive influence in the lives of our participants.
Peninsula Co-op is a Vancouver Island based co-operative with its core business in grocery, petroleum and convenience stores. The Co-op is entirely owned by its members who share in its financial success through an annual rebate. Peninsula Co-op proudly shares its profits with its member/owners, its community and its staff.
Return to the TeenWork Employer Spotlight main menu

Go to Top