Employer Spotlight: Lumberworld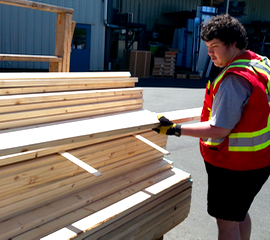 Heading into summer, building and home improvement are common activities in Victoria. So it seems the perfect time to recognize Lumberworld, an outstanding local company that makes inclusive hiring practices part of its foundation.
Lumberworld and TeenWork began working together in March and have enjoyed a strong, proactive partnership that has led to the employment of teenager named Chris.
Chris was looking for something fun, engaging and familiar when he was first introduced to Rob Haneveld, Lumberworld's Yard Supervisor. From that point, a connection developed that eventually helped fill a business need for Lumberworld and an employment need for Chris.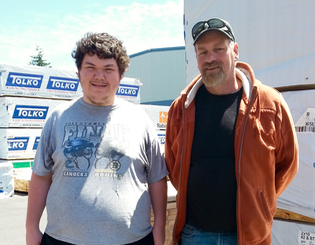 Now, every Saturday morning, Chris heads to work in the yard at Lumberworld, helping customers locate and load products into their vehicles, as well as cleaning and organizing the area during some of the store's busiest hours.
"It is very fulfilling to work with Chris," says Rob, who praised Chris's accomplishments, attitude, and his positive effect on the business, co-workers and customers. "Chris comes to work, does his job well, handles everything and gets it right."
Having an employee as consistent and accountable as Chris has really helped improve the functioning and atmosphere of the lumberyard, says Rob, who refers to Chris's charisma and his ability to work well with all members of the community.
"Lumberworld always aims to include those who have a special need or disability in business and is proud to create inclusive employment opportunities in the community," Rob explains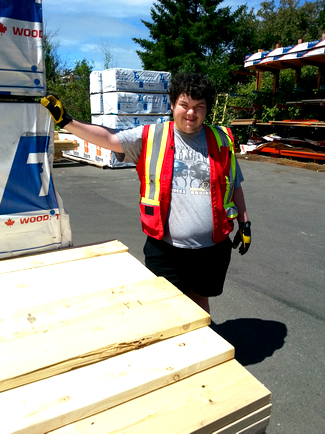 Since he started working, Chris has become increasingly independent in his responsibilities and is well on his way to developing a steady and rewarding job that will continue to benefit him and Lumberworld, too, especially as the summer rolls on.
Rob says that Lumberworld would certainly be comfortable expanding Chris's responsibilities and hours in the future, once the young man feels ready to take on more.
TeenWork thanks our friends at Lumberworld for working with our program and providing such a positive influence in the lives of young people in our community.
Return to the TeenWork Employer Spotlight main menu.
Go to Top