Employer Spotlight: Real Canadian Superstore
In June, the Real Canadian Superstore in Langford hired TeenWork participant Andrew to join its seafood department to look after the crabs, lobsters and other shellfish, while also providing excellent customer service.

Andrew, a Grade 12 student, brings his determined work ethic, willingness to learn and a passion for helping others to Superstore three days a week. The teen is one of a trio of employees who keep the department running smoothly.
Todd Sloan, Superstore's seafood manager, provides Andrew with a strong and positive mentoring presence, while also giving the young man room to work and grow independently. He has nothing but praise for Andrew's work.
"Andrew completes everything that is asked of him and has such a fun, positive and upbeat attitude," Todd says. "He has a relentless and continual willingness to learn any new task that will help the store improve in any capacity. Andrew is always reliable, communicates any and all problems he encounters, and works extremely well with others."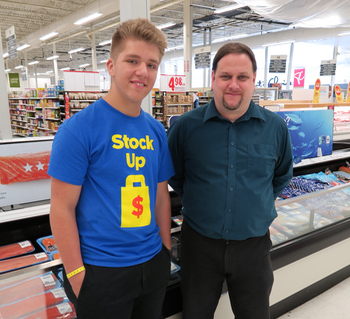 Todd says collaborating with the TeenWork program has been a great experience.
"Aside from getting to employ and work with Andrew, it is very exciting to know that the TeenWork program is always there for both Andrew and Superstore and is looking out for the needs of everyone involved," he says.
TeenWork has supported Andrew in achieving success in his position as he builds independence and takes on more responsibilities. For example, Andrew has begun monitoring the temperature of the seafood tanks and conducting health checks on the lobsters, crabs and other shellfish to ensure they are healthy, fit for consumption and looked after properly. These tasks all require numerous skills, and Andrew has done very well in learning them.
For the past four months, Andrew and the Superstore's seafood team have worked swimmingly together and both are looking forward to continued success in the months to come.
TeenWork thanks the Real Canadian Superstore for working with our job coaches, for being an inclusive employer, and for providing such a positive influence in the lives of young people with disabilities in our community.
Return to the TeenWork Employer Spotlight main menu.
Go to Top