Employer Spotlight: Save-On-Foods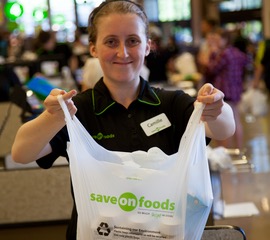 June 2015 TeenWork Employer Spotlight:
Save-On-Foods

This June, the TeenWork Employer Spotlight lands on Save-On-Foods, at Fort and Foul Bay, for its efforts in promoting community inclusion in Victoria. Not only does this grocery store support local growers and producers, but it also participates in community events and maintains a strong partnership with TeenWork, CanAssist's youth employment program.
"We are proud to have inclusivity as a foundation here at Save-On-Foods, building off of each other's strengths and different backgrounds," says Manager Roger Junker.
Save-On-Foods has a history of supporting youth and encouraging healthy lifestyles. TeenWork shares this goal, believing that part of a healthy lifestyle is building lifelong employment skills early on and finding meaningful work.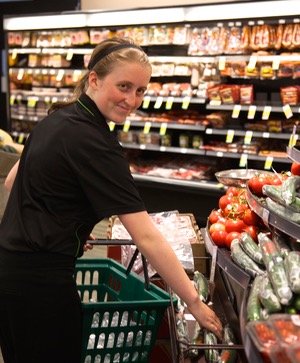 This has certainly been the case for TeenWork participant Camille, who works as a Courtesy Clerk at Save-On-Foods. After developing her skills and building confidence over the past year and a half, Camille is being offered the opportunity to expand her role through training for a cashier position.
Being part of the community at Save-On-Foods gives Camille a sense of stability as she graduates from high school this June and transitions to adulthood.
Junker says Save-On-Food's support of employees such as Camille has an impact both inside the store and beyond its front doors.
"Our staff team mirrors the demographics of the communities we serve," he says.

Return to the TeenWork
Employer Spotlight main menu
Go to Top