Employer Spotlight: Sidney Bakery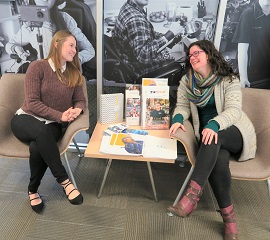 Owned and operated by Colleen Hay and her husband Mike Hay, the Sidney Bakery has been in Colleen's family since 1942. The bakery is a fixture on Sidney's Beacon Street, where there is always a regular stream of folks stopping in to pick up fresh bread, pie, cookies, and many other of their baked treats.
TeenWork first approached the Sidney Bakery in 2015, and right away Colleen was open to developing a customized position to suit the needs of a TeenWork youth, at the same time as meeting her own business requirements. Colleen identified the need for extra help in the bakery during peak hours in the afternoon, when there were miscellaneous tasks to be completed, but staff were often busy with customers at the front of the shop.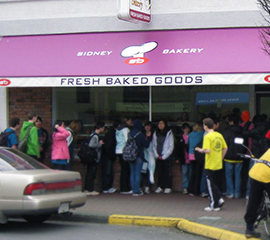 While talking about the importance of inclusive hiring to her business, Colleen says, "As a business owner, we donate to all kinds of organizations that are responsible to our community and that makes us proud. Employing young people with disabilities is entirely different – it is the single most important thing that we do. They're reliable, respectful and so willing to give it their all."
The first TeenWork participant hired at Sidney Bakery helped with slicing and bagging bread. This was a critical task in the bakery, and one that was a good fit for this particular youth who was looking for job duties with repetition and minimal customer interaction.
Less than two years later, Colleen hired Sidney Bakery's second TeenWork participant, Bailey. Bailey's efficiency and eagerness for more responsibilities had her taking on numerous roles, including icing cookies, packaging items and setting up product displays.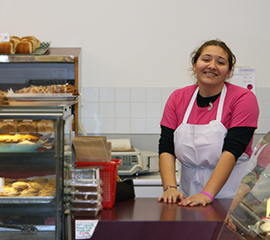 Bailey now works twice a week after school and four hours on the weekends, and has become an integral part of the team. Bailey's enthusiasm and sense of humour makes for a great atmosphere for staff and customers. "Making the best bonds with the people I work with," is what Bailey describes as one of her main job objectives.
Colleen says there have been many benefits to working with the TeenWork youth.
"I find over and over again that it's not what they learn from us, but it's what we learn from them – honesty, compassion, empathy and pure joy at times…I highly recommend inclusive hiring for any employer."
Go to Top