Employer Spotlight: Sodexo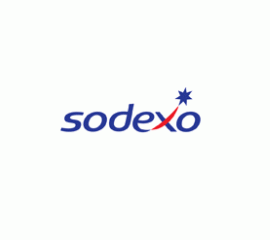 Sodexo Quality of Life Services is an international company that holds a contract for the kitchen and janitorial services at St. Michael's University School (SMUS) in Victoria.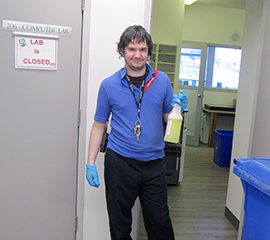 TeenWork first connected with Melissa Wood, Executive Chef at Sodexo Campus at SMUS, in August 2016 to explore the possibility of finding work for TeenWork participants interested in the food service industry. Two teens, Sarah* and Cheyenne, were hired in September 2016 to help with various critical tasks around the kitchen, such as dishwashing, wiping tables, mopping floors, and serving meals to the many students.
One year later in August 2017, Mark McKee, the Custodial/Soft Services Manager at Sodexo Campus at SMUS, reached out to TeenWork. He was looking to hire someone for his team to look after cleaning classrooms, hallways and washrooms at the school.
Mark was able to find a great fit for the position in John, a hard-working TeenWork participant who had previous experience doing quality testing of technology for CanAssist and working at Starbucks.
John needed a more consistent and sustainable job to continue building his career, but the young man was nervous to start working the 30 hours per week Mark required. Mark accommodated John with the scheduling, providing the opportunity to increase his hours as he became more confident and comfortable in his position. Sodexo encourages its staff members to grow and learn in their positions while presenting many opportunities for professional development and career advancement if the employee is interested.
"I really like the work and the people here," John said about working at Sodexo. Both the kitchen and janitorial teams have been very welcoming to the job coaches assisting TeenWork participants at the job site.
Mark reports, "Most of the employees with diverse abilities that I have worked with continuously and conclusively prove to me that the statistics don't lie. Reliability, strong work ethics, and attention to detail are certainly traits which most employers should find. What businesses are not looking to highlight these attributes in their prospective employees? Agencies like TeenWork and employees like John exemplify these ideals and make supporting these initiatives a no-brainer!"
Sodexo and TeenWork look forward to continuing their valuable partnership.
*To maintain participant confidentiality, some participants' names are changed in promotional materials.
Go to Top