Employer spotlight: Ottavio Italian Bakery & Delicatessen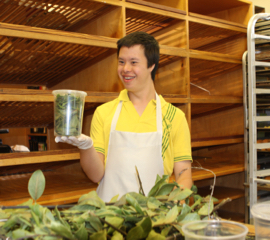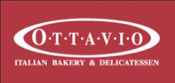 For the month of July, TeenWork's Employer Spotlight acknowledges the outgoing, outstanding, and one-of-a-kind Italian bakery and delicatessen, Ottavio on Oak Bay Avenue.
Ottavio and TeenWork have teamed up before and are once again working together to help meet the demands of a successful and thriving business while also providing meaningful paid work opportunities for local youth.
Andrew Moyer and Monica Pozzolo, Ottavio's owners and operators, have a palpable passion for creating delicious and authentic home-made goods for their customers to enjoy year-round. Along with this commitment to their store's customers, Ottavio also focuses on giving back to the Oak Bay community by providing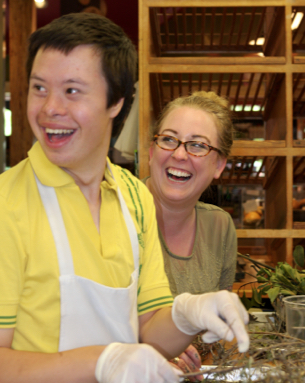 opportunities for people to experience numerous unique and delicious activities including olive oil tasting, cheese cut sampling, and Oktoberfest delicacies.
Ottavio's newest employee, Myles, is an amiable, sociable and active young man who has been a resident connoisseur of Ottavio from the time he was a young boy.
Since starting work in June, Myles has made a positive impact at Ottavio and has brought many fun, happy and memorable experiences to the bakery and kitchen.
Jennifer Nicholles, Ottavio's administrative manager, has seen Myles during each of his shifts and speaks highly of the young man's work ethic and how he learns, manages, and accomplishes new tasks every shift.
"Myles is always happy, smiling and willing to complete almost any job," says Jenn, adding that he "makes everyone around him happier and more relaxed." Each week, Myles completes an important set of tasks, such as packaging, weighing, portioning or labeling Ottavio products, with support from his TeenWork Job Coach, Alex Eberle.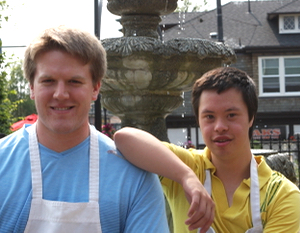 Owner Andrew maintains that the goal of having Myles working in the kitchen is to improve the productivity and functionality of Ottavio. He adds that Myles' role within the company helps meet the financial and business goals that Ottavio sets out by reducing some of the tasks that full-time employees have to complete.
After about two months working together, Myles and Ottavio have no plans on slowing down and are both looking forward to helping more people enjoy the fine foods that the bakery and deli offer.
Thank you, to our friends at Ottavio Italian Bakery and Delicatessen, for working with TeenWork and for providing such a positive influence in the lives of young people in our community.
Return to the TeenWork Employer Spotlight main menu.
Go to Top