Employer Spotlight: Red Barn Market
September 2015 TeenWork Employer Spotlight:
Red Barn Market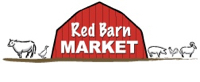 TeenWork and Red Barn Market have enjoyed a thriving partnership since 2011, with three youth participants placed in their Victoria-area stores. Having enjoyed more than four years of dedicated service from previous TeenWork youth, Red Barn Market was enthusiastic about working with the program again.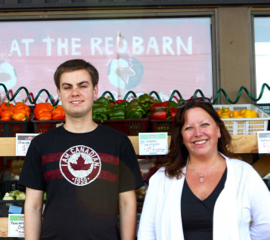 The most recent collaboration involved bringing Marcel, a hardworking and conscientious young man, onto the team at Red Barn's Vanalman Avenue location.
TeenWork Job Coach Brooke Parlby worked with Red Barn managers to determine which area of the store would benefit most from Marcel's skills. Now settled in as part of the team, Marcel brings dedication and commitment to quality to his role as a Produce Associate. Marcel's supervisors commend him for his attention to detail and his efforts to foster a strong sense of hospitality with customers.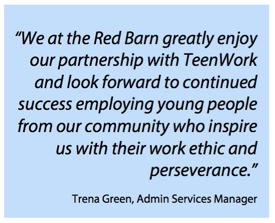 Marcel is very proud to be part of the team because Red Barn is a locally owned business, sourcing much of their food products from local farms and contributing to local sustainability by composting. Customers can count on the displays being stocked regularly with quality, farm-fresh produce – the result of Marcel's hard work.
Marcel loves his job and says the greatest thing about Red Barn is the friendly work environment.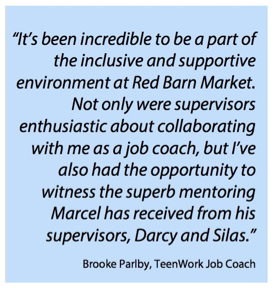 "I am very grateful to Trena, Darcy and Silas for helping me develop skills in the customer service field," Marcel says. "While I was learning the new role, they were all very supportive and open to working with my TeenWork job coach."
Check out Red Barn on Facebook and Twitter.
Go to Top