Employer spotlight: Vikes Athletics and Recreation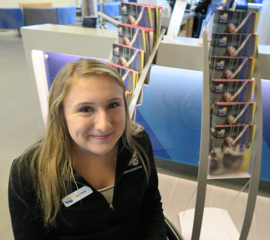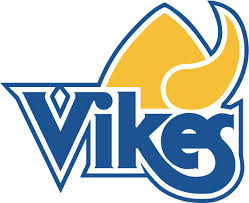 When building the new Centre for Athletics, Recreation and Special Abilities (CARSA), UVic's goal was to create an open, active and inclusive community. That dream has become a reality since the building opened in May.
Not only is CARSA a buzzing hub of physical activity and recreation for students, faculty and the surrounding community; but the facility has also provided unique employment opportunities for a variety of UVic students, including TeenWork participant Alyshia.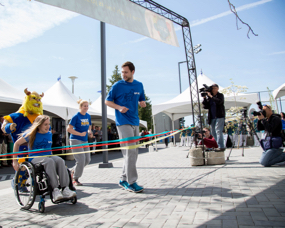 Initially, Alyshia volunteered to support CARSA's vision for inclusive programming and equipment; for example, she participated in the May 1 grand opening event – "Race to CARSA" – and later demonstrated the use of the facility's accessible equipment for a Shaw TV news segment.
Recognizing her passion and commitment, Vikes Athletics and Recreation was thrilled to partner with TeenWork to hire Alyshia as part of their team. Alyshia started training at the end of August to ensure she was ready to handle the hundreds of users who pass daily through the remarkable CARSA entranceway, with its iconic view of the Peninsula Co-op Climbing Wall.
"Alyshia is so genuine, friendly and committed to helping solve customer issues," said Brenda Wickware, Vikes recreation services administrator, who oversees the membership services staff.
"She positively affects those around her with her attitude and unique perspective."
Alyshia's duties at the front desk include: helping customers both in person and on the phone with membership and class registration issues; answering questions about the facility; and
processing day-to-day transactions for programming and weight center access.
"Alyshia's confidence has grown considerably since her start," Wickware added. "She is not afraid to tackle any questions or concerns and she has seamlessly integrated into our Vikes team."
UVic student staff members – including Alyshia – are ready to help visitors at Vikes' front desk every day from 6:30 a.m. to 11:00 p.m. Check out www.vikesrec.ca to learn more about memberships and the numerous programs offered, and stay connected at www.facebook.com/vikesrec.
Go to Top