Testimonials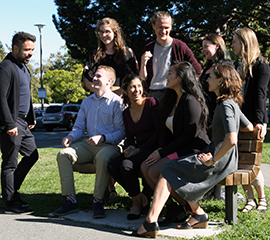 The following conveys the positive experiences of just a few local employers, families, teens, and educators who have been involved with the TeenWork program:
"TeenWork learned the disabilities and advantages of everyone in the program and paired us up with a coach that could help us find a job using what we were good at. After we got our job coach, they helped us make a resume and drop them off at different places, and helped me pay for First Aid to strengthen the chances of me getting a job. When we got called back by the business, they helped us set up an interview and attended it with us. They were there through the training when we got the job and checked in with us to make sure we were doing okay once we started work. I would recommend TeenWork for any disabled youth who are ready to enter the workforce. If it wasn't for TeenWork, I would not be working at this point in time."
Michelle, TeenWork participant
"I want to thank TeenWork for helping my son secure his first job at London Drugs. The job coaches have been there for support, guidance and training whenever he needed it. It has been key to building his confidence and self esteem."
Suzanne, parent of a TeenWork participant
"Since hiring Aidan through TeenWork, we have come to enjoy his company and dedicated spirit. He is now a very productive and treasured member of our team. As a company who is interested in hiring youth and helping the community it is crucial to have organizations like TeenWork to work with. They have done an excellent job matching Aidan with us, and we look forward to hiring more youth through TeenWork. Thank you very much TeenWork!"
Daniel Cammiade, Executive Director, Southern Vancouver Island Nature Trails Society
"CanAssist's TeenWork Program has supported dozens of my clients to be successful in paid positions around Victoria including jobs in restaurants, tourist attractions, stores, and offices. What a pleasure it has been to witness these young people blossom as they gain more and more confidence in their new roles. I also find TeenWork's referral process to be straightforward, and I very much appreciate their clear communication. Thank you TeenWork Team!!"
Lee Dellabough, Occupational Therapist with the School Age Program
"TeenWork helped me to improve my skills on how to find a job."
Hailey, TeenWork participant
"I really appreciate the support my son has received through the TeenWork program. He received help with securing a job, as well as ongoing follow-up support. My son has gained valuable work experience and skills and his confidence has increased. The staff member who supports him has been excellent in every way. I highly recommend this program -- thank you, TeenWork!"
Lori, parent of a TeenWork participant
"As a parent of a teen with a social disability, it can be very stressful planning and teaching them the skills and attitude necessary for job hunting. Through their caring guidance, TeenWork has single-handedly taken all that stress away for me. My son is now a happy productive part of our local working community. What a massive relief. Thank you TeenWork! We owe you a great deal."
Dan, parent of a TeenWork participant
"TeenWork is an amazing program. It stretches kids to reach their potential in the work world."
Melanie McIsaac, Inclusion Education Teacher
"TeenWork has helped us find a dedicated, motivated, and positive employee with ease and confidence. This helps me as an employer to meet my business needs, but also invests in youth's futures by supporting young people that experience barriers to employment and encouraging financial empowerment and independence. Working with Myles has been incredibly rewarding, and I am so thankful to TeenWork and his Job Coach for helping me in making this a positive experience for Myles and the store."
Kaylee Horneland, Manager, Starbucks Coffee Company
"I got Cheyenne signed up for TeenWork and she got a call around June 2016 to start. She got teamed up with a job coach to do the Discovery process then to make a resume and look at jobs. Later that summer, Cheyenne got a call from Sodexo at St Michael's University School for an interview. Cheyenne hadn't done an interview before but TeenWork figured it out to help her prepare, and she went and got the job. She started working Wednesday, Friday, and Sunday nights as she was getting ready to go college. She has a busy life - she does college, work, and Special Olympics, this summer she's going to provincial summer games, and she's working on going to UVic. She loves working at Sodexo."
Michelle, parent of a TeenWork participant
Go to Top