Information for Employers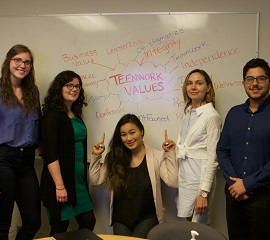 TeenWork is actively focused on developing new working relationships with community employers to identify placements for several new youth participants. If you would like to know more about the TeenWork program or would like to get involved as an employer, please contact the TeenWork Program Manager at 250-721-7670 or teenworkatcanassist@uvic.ca.
---
gain loyal, hard-working employees who are supported by a TeenWork job coach
increase retention in entry-level positions
gain recognition from customers and the community as an inclusive employer
improve workplace morale and enhance your community networks

---
Who can participate in TeenWork?
Any youth who:
has a disability and is from 15 to 19 years old
attends high school
acts safely toward self and others
is motivated and eager to work
is independent in personal care
---
How does a business hire a youth with a disability?
businesses are encouraged to contact the TeenWork program manager if they are interested in hiring a youth (250-721-7670 or teenworkatcanassist@uvic.ca)
the youth may initiate contact directly, with or without their job coach
the TeenWork coordinator may contact a business as a potential employer and request a brief meeting to discuss employment opportunities
an employer works with the youth and their job coach to identify an appropriate paid position that fits with current business needs

---
Employment secured: long-term employment
Once a position has been secured, a TeenWork job coach will work with the employer and youth to ensure a smooth transition into the workplace. Workplace support from the job coach may include:
assisting the youth in learning job duties and understanding the employer's expectations
working with the employer, youth and staff to facilitate the development of natural supports (e.g. a mentor or co-worker in the workplace who can provide additional guidance)
as the youth becomes increasingly independent at work, on-site job coaching will be reduced as appropriate
the job coach will continue to check in with the employer and the youth on a weekly or monthly basis, as needed
the employer should feel comfortable contacting the job coach at any point during the youth's employment


---
FAQs for employers
How long will the youth be supported by their job coach?
The job coach provides one-on-one support to ensure youth are comfortable in their new work environment and proficient at their duties. The job coach will reduce support as appropriate and will provide long-term job monitoring check-ins after on-site coaching is reduced.
How much do I have to pay the youth?
In accordance with the BC Employment Standards Act, all individuals are required to be paid at least minimum wage.


How have other employers found hiring a teen supported by TeenWork?
Participating businesses have found the inclusion of a TeenWork youth in their workplace to be a very positive experience – for staff, customers, the teen and the community as a whole. See Testimonials about the TeenWork program for more information.


Will the youth need more training than the other staff?
On a case by case basis, TeenWork youth may request additional training if they feel they need it, like any other employee. A TeenWork Job Coach can also provide additional support and training.


Can the youth work as many hours as my other staff?
Shift lengths may vary depending on the needs of the youth or employer.


What if things aren't working out with the youth as an employee?
If issues are becoming evident with the youth in the workplace, we ask that the employer speak with the youth and job coach as soon as possible. This way, the youth, with the support of the job coach, has the opportunity to address any issues and hopefully resolve the area of concern. Ultimately, a "good job fit" for both the employer and the youth is of the utmost importance to TeenWork.


Do I need to commit to hiring the youth for a certain amount of time?
No. There is no minimum, obligatory employment or work-experience term. We just ask that a youth is hired with the expectation of them staying on as long as they are fulfilling the expectations of their position and are suitable for the employer's business needs.


Who pays the job coach?
TeenWork is generously funded through in-kind support from CanAssist and UVic, as well as by philanthropic donors such as the City of Victoria, and the Government of Canada. This free employment service comes at no charge to the youth or the employer.


Does WorkSafeBC cover the job coach while they support the youth in my business?
Yes. TeenWork job coaches are covered under UVic employees' insurance coverage while they are supporting a youth at your business. A youth participating in an unpaid, work-experience position is covered under their school district's workers compensation.
*Please note: TeenWork is a small-scale project with limited participant capacity
Go to Top