Information for Participants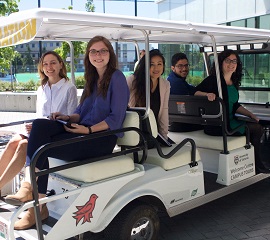 This section provides detailed information for teens and their families about the TeenWork program. If you have a question about the program that is not answered here, please contact our Team Lead
---
Who is eligible for TeenWork
Any youth who:
has a disability and/or mental health challenge and is from 15 to 19 years old
is attending school
acts safely towards self and others in the community
is independent in personal care
has access to transportation (e.g. handyDART, parents, bus)
Services that TeenWork may include
We support youth in achieving their employment goals. This participant-centred service may include:
the Discovery Process (a series of work-related assessment exercises that help identify the youth's preferences, abilities and interests, and thereby ensure a good "fit")
creation of résumé and cover letter
development of interview skills
job searching and job development
one-on-one, on-site job coaching, one-on-one, on-site job coaching that fades out as the youth feels more confident or when the youth's time in the program is finished (at 19 years old for Local program or after 35 weeks in the SkillsLink program)
ongoing job maintenance and support
group skills building workshops
---
How the job coach supports teens once employment has been secured
helps them understand workplace expectations and requirements, such as general work etiquette, uniform and appearance
may help coordinate independent transportation to work and work-related activities; for example, training in riding the bus, parent drop-off/pick-up or a walking route
assists in developing specific skills relevant to work tasks
if necessary, develops job aids that enable the youth to perform the job tasks as independently as possible
finds natural work supports at work; for example, supportive colleagues or workplace mentors
provides assistance in understanding work specific protocols, and policies such as vacation time, sick days, etc.
---
Long-term employment and adult employment supports
as the youth becomes increasingly independent and confident at work, the job coach will reduce one-on-one, on-site support as appropriate
the job coach will continue to check in frequently with the employer, youth and youth's family as appropriate
as the participant is nearing high school graduation and the age of 19, the job coach will work with the youth, family, school, and local adult agencies to facilitate a smooth transition into adult supports
---
How a young person becomes a TeenWork participant
Eligible teens can self-refer, be referred by an education or health-care professional, or have their parent(s) or guardian(s) apply on their behalf. The first step is to print off, fill out and submit the:
Youth Employment Referral Form [PDF 172 KB]
The completed form can be faxed to 250-721-7299, emailed to teenworkatcanassist@uvic.ca or sent by regular mail to TeenWork at CanAssist, University of Victoria, CARSA, PO Box 1700, STN CSC, Victoria, BC, V8W 2Y2.


The TeenWork Program Manager will contact the family by email and arrange a time to meet and fill out an Expression of Interest form. If determined eligible for TeenWork, the youth will then be placed in a pool from which future participants are selected, based on a number of factors. Please note: TeenWork does not hold a traditional waitlist.
---
A list of other youth and adult employment providers
Download our list of Youth and Adult Employment Programs - 05-02-21.pdf .
---
FAQs for teens and families
Can anyone apply to TeenWork, regardless of their disabilities or abilities?
Yes. Any youth from 15 to 19 can apply, providing they want to work, attend school, and have a disability or mental health challenge which presents a barrier to employment. Please keep in mind that TeenWork is a small-scale project with limited participant capacity.


What if my teen is 19 or older?
Please consult Youth and Adult Employment Programs - 05-02-21.pdf



Is there a time limit on the job coach's support of the youth?
TeenWork strives to be as flexible as possible in meeting the needs of individual participants and to provide enough support to ensure the teen can succeed at work. The duration of on-site job coaching is determined on a case-by-case basis and is provided with the understanding that workplace independence will be possible during the youth's participation in the program.


What happens if our family wants to go on vacation?
As with any employee, it is important that the youth follow the vacation leave practices determined by their employer. It is expected that TeenWork meetings and group sessions be treated like a job, with advanced notice of absences, except in the case of illness or an urgent matter. It is common for vacation requests to be submitted in writing at least two weeks to a month before the desired vacation date. At TeenWork, work commitments are expected to take priority over social activities.


If the youth is not happy with their job, can they find a new one?
The job coach will always work to resolve any issues as they arise and before they become overwhelming to the employee or employer. However, as a general rule, if a youth is unhappy in their placement and interested in seeking another job, they are encouraged to find a new position before leaving their current one. If the youth has demonstrated good work ethic and behaviour within their current position, then the job coach is happy to help the youth find additional employment.


How many hours per week will the youth receive the job coach's support?
In the initial stages of the program, the teen will likely be expected to meet with his or her job coach or to attend group sessions for one to three hours per week after school. Some additional take-home work may be assigned. Once the youth secures a job, the amount of support will depend on how many hours the youth is working and how much support is required on-site. TeenWork is flexible in meeting the needs of individual participants; please note that support is only offered for work-related activities.
How will my youth get to and from their work placement?
Participants are expected to be independent in transportation, whether public transit, handyDART, walking, or rides from a parent or guardian. The job coach can initially help establish independent transport for the youth, if necessary, such as through learning to take a bus.


What happens when my youth graduates from high school?
Successful transitioning to adult supports is a priority for TeenWork. The youth, their family and job coach will work together to discuss adult employment agency options (or alternative supports if necessary) during their time in the program. A plan will be created to suit all parties' needs and the job coach will work to ensure a smooth transition from high school into adulthood.
Do you have a list of other youth and adult employment providers?
Yes! Please consult Youth and Adult Employment Programs [PDF - 966 KB].
*Please note: TeenWork is a small-scale project with limited participant capacity
Go to Top