Anna's story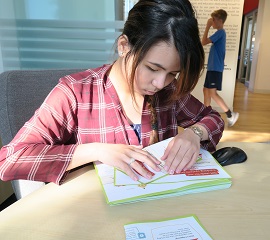 Anna became a TeenWork participant in the spring of 2016 during her final year in high school. Her thoughtfulness and high regard for respect and a supportive team environment made her a great candidate for a new administrative position developed by a Vancity branch to help ease the strain on existing employees for administrative tasks they sometimes scrambled to finish. Anna's duties at Vancity include building new member packages, filing business and personal financial documents, scanning cheques, counting coins and ensuring that the space is tidy and welcoming.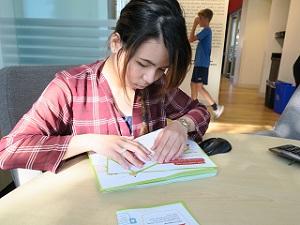 Like all TeenWork participants, Anna is receiving non-time-limited, on-site job coaching. This personalized support has helped the teen strengthen her ability to prioritize tasks, and guide her through step-by-step processes to ensure her success in completing tasks.
"TeenWork's support has been an invaluable part in walking this process for the first time," said the Vancity branch manager. "From an employer perspective, the partnership has allowed us to work extensively to uncover obstacles and challenges from the start, which has helped the candidate be successful in her role."
For TeenWork and CanAssist, the partnership with Vancity has been equally rewarding.
Not only has Vancity generously supported several TeenWork youth through community grants over the past five years, but now with the workplace inclusion pilot, they are further demonstrating their commitment to inclusive employment opportunities and acting as a leader for other organizations in our community.
Anna, who has now been working at Vancity for about a year, says that the warm and welcoming support of Vancity staff has been instrumental in improving her work performance and self-image.
"My experience with Vancity is amazing!" said the 19-year-old. "The first time I worked at Vancity, I was really nervous. People were so welcoming and very friendly. Working at Vancity has changed me because it's made me more independent and confident."
---
View more stories about our teen participants.
Read testimonials about the TeenWork program.
Go to Top