Camilla's story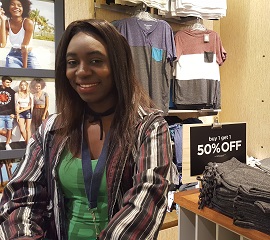 Camilla joined the TeenWork program in the fall of 2015 with the goal of developing her employability skills, making new connections and earning her own money.
From 2015 to 2016 she was employed in seasonal positions in retail, both at Winners and The Bay. Her job coaches worked with her to help familiarize her with the stores, and with learning new job tasks such as time management and multitasking. The experience and skills she gained during these opportunities in the areas of customer service and communication were easily transferrable to a new job that she commenced this spring.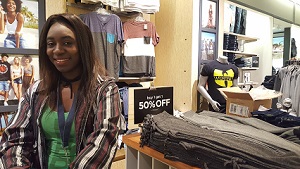 This May, she began a position as a Sales Associate at a clothing store in Mayfair Mall. It is a fast paced job where she greets customers, updates them on promotions and store specials, tidies the merchandise and assists customers in the fitting room area. She is thrilled with her new work. With her past experience in retail she was able to work independently with periodic check-ins after just her first shift on the job.
Camilla graduated from high school this spring, and hopes to continue her current employment through the summer and beyond. It is a great stepping stone for her future career path, and a valuable way for her to develop her confidence and determination to succeed. She is well on her way!
---
View more stories about our teen participants.
Read testimonials about the TeenWork program.
Go to Top