Cheyenne's story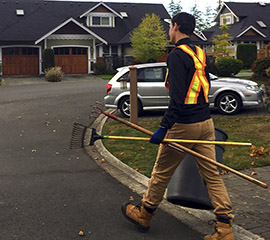 Cheyenne joined TeenWork in her Grade 11 year, excited to get a position in the food services industry.
Through Teen Work's Discovery process, Cheyenne identified her strengths as being a friendly and helpful person with a good sense of humour. She got along quickly with her job coach and demonstrated a high potential for jobs in customer service. Cheyenne identified her major challenge as keeping track of time, including arriving on time. She worked through this by setting reminders about appointments, receiving and responding to text reminders from her job coach, and practising calling ahead of time if she were ever to be late.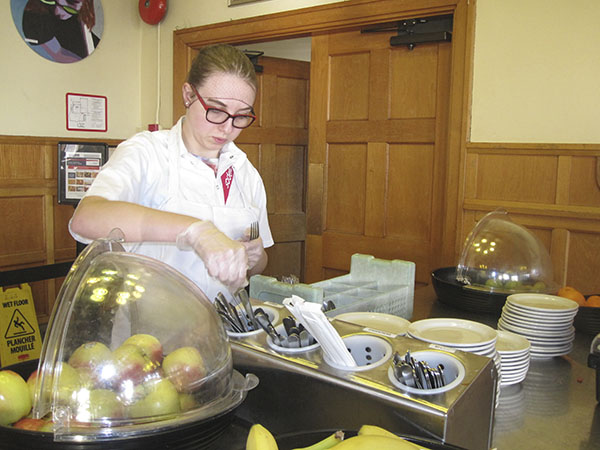 In the fall of 2016, Cheyenne secured a position in the kitchen at St. Michael's University School, through Sodexo Quality of Life Services. She quickly mastered duties such as dishwashing, putting dishes away, cleaning tables, mopping floors and serving food to students. Cheyenne's friendly personality proved a great asset in ensuring the school's boarders felt welcomed and comfortable in the dining hall. She also quickly got to know her co-workers.
The habit of catching an earlier bus ensured that Cheyenne arrived at work on time. Initially, Cheyenne received on-site job coaching from her TeenWork job coach to assist her in completing all facets of her position and to improve her speed in completing tasks.
Sodexo's management, in turn, ensured Cheyenne and her job coach received feedback in a timely manner. After a few months, Cheyenne was completely independent at work with only the occasional check-in from her job coach.
Melissa Wood, executive chef at Sodexo at SMUS, reports: "The (TeenWork) coaching staff works with the employers to ensure the best outcome for all parties. Having teens that want to work and learn new skills is refreshing; it is a joy to watch them grow and develop in the workplace. It also helps management and other staff grow their understanding of the benefits of being an inclusive workplace".
Cheyenne loves her job at Sodexo and sees herself staying there for a while yet. Her job coach has seen many improvements in Cheyenne's time management and accountability since she first started with TeenWork and knows that her friendly and helpful personality will be an asset wherever she chooses to go in the future.
---
View more stories about our teen participants.
Read testimonials about the TeenWork program.
Go to Top