Emma's story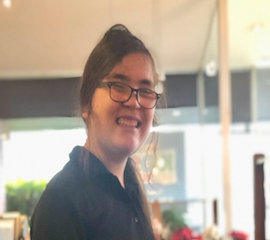 Emma came in to the TeenWork program with a positive attitude and a willingness to learn. Right away her job coach saw that she was a hard worker who enjoyed helping her mom around their home, and being involved in her community. Emma and her job coach worked together to develop pre-employment skills and work readiness, and together they identified businesses where she was
interested in working. Emma applied to a few different positions and had one unsuccessful interview, but she persevered. Emma secured another interview, this time at Denny's; on the day of the interview she was nervous, but calm and professional. She ended up getting the job at Denny's, and started working on Saturdays and Sundays in May 2019.
Emma has become an asset to the Denny's team during their busiest time of day, the weekend breakfast rush. Emma helps the hosts with organizing the menus, preparing the cutlery, and other tasks as needed by the staff. This greatly helps the servers and hosts and provides for greater efficiency among the team.
Emma is doing a wonderful job and is learning skills that she will be able to use in her future work and beyond.
Go to Top