Lily's story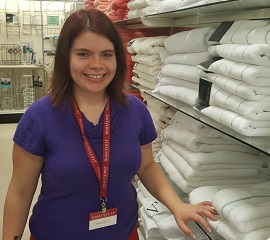 When Lily joined TeenWork in 2015, she already had great experience as a Food Service worker at her school, and through a number of volunteer positions including as a Salon Assistant at Lizzy Lee & Me Hair Salon and a Courtesy Clerk at Red Barn Market. Lily was very keen to gain paid employment to put her customer service skills and passion for helping people to good use.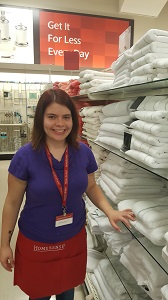 Lily learned to leverage her past work experiences and extracurricular activities into tangible skills she could demonstrate in a resume and cover letters, which she created with the help of her job coaches at TeenWork. She was keen on obtaining a position where she could interact with others, do organizational tasks and work as part of a team.
In November 2016, Lily secured a seasonal position at Winners where she completed tasks including refacing the store, checking clothing for quality and accurate labelling, recovering merchandise from change rooms and around the store and helping customers find items. The managers noticed Lily's attention to detail and strong work ethic, and identified a permanent position for Lily at Winners' sister store, HomeSense.
HomeSense's Assistant Store Manager, Michelle, reports that Lily is very good at her job and has stepped out of her comfort zone since starting the position several months ago. She answers customers' questions, uses her headset to page others and keeps up with merchandising and tables. Lily asks questions about what she needs to do for the day, and is bright, happy and has a positive attitude.
Lily continues to work at HomeSense, keeping the "soft section" with towels, sheets, and pillows tidy as well as refacing other areas of the store. Lily reports that she enjoys working with her coworkers, who are really nice. She always has a smile for customers and is a valuable part of the HomeSense team.
---
View more stories about our teen participants.
Read testimonials about the TeenWork program.
Go to Top