Mike's story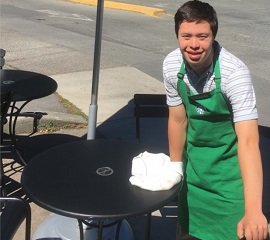 Mike is a positive, social and enthusiastic young man. In June 2014, he joined TeenWork and together with a job coach, Mike developed his work readiness skills to prepare him for his first job.
Mike started working at Ottavio Italian Bakery and Delicatessen in June 2015. He learned new tasks every shift, and quickly got faster in his duties, such as packaging, weighing, portioning and labeling Ottavio products.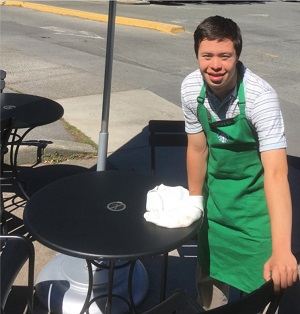 After a long and valuable work term, Mike's employment at Ottavio came to an end. Mike started his job search again with a positive attitude and a job coach by his side. His position at Ottavio made him a perfect candidate for an opening at Starbucks for a café attendant position. He had gained experience working in the service industry and creating a comfortable and welcoming environment for customers - aspects of the business world for which Starbucks is well known.
At Starbucks, Mike greets customers and maintains overall store cleanliness by bussing tables, refilling the condiment station and taking out the garbage and recycling. "With the support of TeenWork and his inclusive team here at Starbucks, Mike is on his way to becoming independent at work," said Kaylee, the Starbucks Store Manager.
Mike has been working at Starbucks for four months now and is very happy with his placement. "My favourite thing about working at Starbucks is everything!" he exclaimed.
"The employees at Starbucks are kind and genuine people. They always treat Mike with respect and encourage him to do his best," said Anna, Mike's Job Coach.
Mike recently took on more shifts at Starbucks after graduating from high school. He is looking forward to learning new tasks and gaining skills that will increase his independence in the workplace and elsewhere.
---
View more stories about our teen participants.
Read testimonials about the TeenWork program.
Go to Top