Reilene's story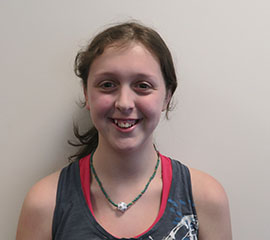 Reilene is a positive, friendly and hard-working young woman who was among the first teens to benefit from a new group-based "stream" offered by TeenWork and funded by the Government of Canada's Skills Link program.
In the winter of 2018, Reilene attended group sessions twice weekly for 15 weeks, covering everything from writing resumes and cover letters to getting comfortable with interviews, customer service, cash handling and more. Once the group sessions ended, Reilene was ready and eager to find a job. With support from her job coach, Reilene handed out resumes and applied to different positions in person and online, leading to multiple interviews.
With each employer meeting and interview, Reilene learned valuable skills on what employers are looking for, how to be professional and the importance of not giving up! She eventually received a job offer cooking breakfast, serving food and cleaning rooms at a retirement home. Job coaches Natalie and Kayla assisted Reilene for four weeks to help with training, and the young woman worked very hard at learning the job requirements. One of Reilene's duties at her first job was washing dishes, and Natalie and Kayla were able to help her learn effective dishwashing techniques during this experience.
After a month on the job, Reilene realized that the fast-paced and multitasking nature of the position was ultimately not a good fit for her. However, during her time at the retirement facility and with the support of her job coaches, Reilene learned many skills related to workplace etiquette, which will have a long-lasting impact in her future career path.
As Reilene had already learned the hands-on skills of submitting resumes, talking to employers and with her recent kitchen experience, she was able to land a dishwashing job all on her own and she did not require any on-site job coaching! This was a huge success for Reilene, proving that she is now able to independently find work with the skills she learned through the program.
As a testament to the impact the TeenWork program has had on Reilene's career path, her advice to potential participants is "Join TeenWork!"
---
View more stories about our teen participants.
Read testimonials about the TeenWork program.
Go to Top