Wally's story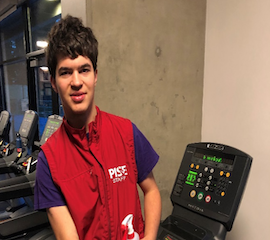 Wally is an active, kind and friendly grade 12 student. From a young age, Wally enjoyed participating in a wide variety of extracurricular activities and sports.

With his love of sports in mind, Wally's job coach contacted Pacific Institute for Sport Excellent (PISE) in November of 2018. Due to Wally's enthusiastic and personable nature, the staff at PISE were interested in hiring Wally and worked with his job coach to develop a customized role that would adhere to his strengths while benefiting PISE's business needs. In his role as an Organizational Assistant, Wally assists with program set-up and take down, cleans fitness equipment, wipes down mats, sweeps and dusts and checks the grounds for garbage.

Wally's job coach and the PISE staff collaborated to create a task list that Wally follows throughout his shift to help him stay focused on what needs to get done. Starting in September 2019, Wally took on another role at PISE as well. For a few hours every Tuesday, Wally works with the Physical Literacy department in the Teacher Mentorship program, supporting other PISE leaders with physical education activities in elementary schools. Wally helps to prepare the games and equipment, leads activities and brings his enthusiasm and passion for sport to his work.
Go to Top