Technology tag search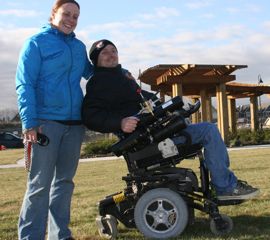 Tag results for: child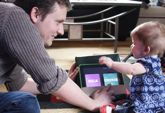 iPad Stand A simple stand for the iPad helps a toddler with vocal paralysis make choices and communicate with her world.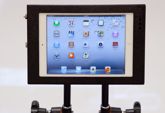 Multi-Surface iPad Mount This mount for an Ipad keeps the tablet securely in place and can easily be attached to tables, wheelchair trays and other surfaces.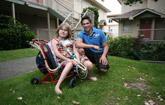 Mobile Floor Sitter An alternative to a wheelchair that allows people who need to sit close to the ground to travel independently with more ease.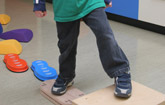 Foot-Activated Noise Maker This device encourages kids with developmental disabilities to learn how to walk. With each correct footstep, the user activates an entertaining noise.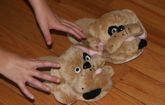 Musical Slippers Cute slippers play a wide range of music when a child successfully puts them on by herself. A great way to encourage independence.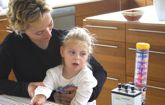 Rainstick Oscillator This device keeps a rainstick toy in constant motion so that its soothing sound is a source of relaxation for a little girl. It will also teach her how to control a switch all by herself.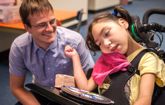 Switch-Accessible Spinner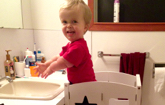 Bathroom Steps for Toddler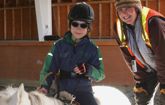 Modified Riding Glove A special glove was modified to enable a boy to ride a horse safely and with better control.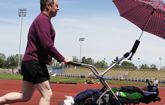 Modified Running Stroller A running stroller was modified so that a little girl could lie in a fully reclined position.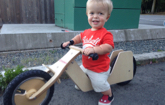 Push Bike for Toddler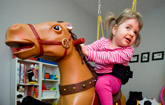 Adapted Rocking Horse We adapted a commercial rocking horse for a little girl who wasn't able to sit on it unassisted. The new support system will accommodate her as she grows.
Remote Control Car Modification A remote control toy car was modified so its functions could be controlled by an accessibility switch.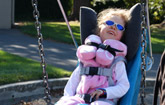 Swing-Enabling System A special seat was modified for a little girl so that she can swing in the park for the first time. The seat attaches securely to any standard swing in any park, and keeps the girl reclined.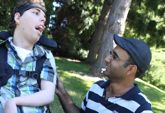 EMG Switch with iPod Two CanAssist technologies are combined so a young man can control an iPod simply by moving his facial muscles.
iPod Switch Interface The iPod Switch Interface lets people with very challenging disabilities control Apple's popular iPod music player with a single switch.
Go to Top