Technology tag search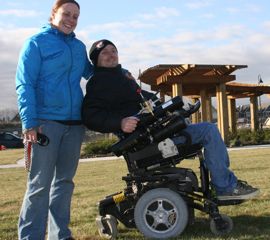 Tag results for: communication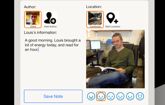 About My Day A software app that allows family members, support workers and others to communicate easily about an individual with a disability with whom they all work.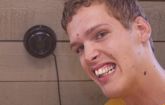 Alert Button We modified a doorbell so a young man can easily alert his caregiver during the night by pressing a button with his head.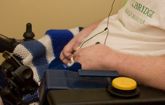 Cellphone Mount and Switch-Adapter Box This dual-function device enables a client to use a cellphone without having to rely on his fingers or a caregiver.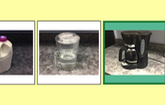 Choices2Go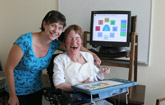 Dynamic Keyboard For people who would like to use computers but are unable to use regular keyboards or full onscreen ones, the Dynamic Keyboard works with a variety of input devices, such as a mouse, joystrick or touch-screen pad.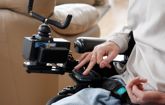 Flexible Cell Phone Mount This device attaches to a wheelchair and holds a cell phone securely in place to make dialing easier.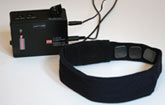 Headband-Operated EMG Switch A technology helps that people communicate simply by contracting the muscles in their face. Clients are fitted with a special headband and when they move their facial muscles, a switch or other device is activated.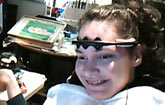 Headband-Operated EMG Switch with Mouse Click Box The electrical activity produced by contracting one's facial muscles activates a Mouse Click Box which, in turn, can be programmed to control a function on a computer or activate some other device.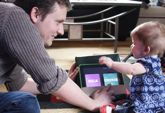 iPad Stand A simple stand for the iPad helps a toddler with vocal paralysis make choices and communicate with her world.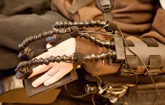 iPhone Switch Interface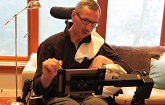 Motorized Tablet Mount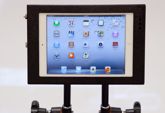 Multi-Surface iPad Mount This mount for an Ipad keeps the tablet securely in place and can easily be attached to tables, wheelchair trays and other surfaces.
Voice Amplification System Modification We modified a commercial voice amplification system so a client using a wheelchair could use it independently and be heard more easily.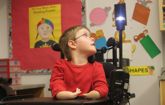 Classroom Alert System We developed a customized light that is letting a Grade 1 boy indicate to his teacher that he wants to speak in class.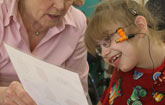 Laser Pointer This technology allows clients to activate toys and appliances by pointing their heads toward a laser-sensitive target. It can be used in classrooms to spell out words.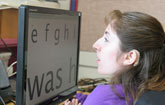 Switch-Activated Writing System For those with very limited vision who are also unable to type. Typing can be accomplished using a simple switch or EMG device. A very large font size can be selected.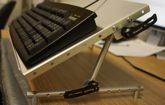 Keyboard Support Stand A customized adjustable keyboard stand makes working more comfortable for a young man who types with his mouth.
Go to Top