Technology tag search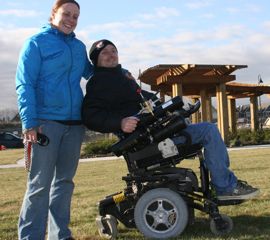 Tag results for: control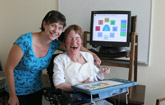 Dynamic Keyboard For people who would like to use computers but are unable to use regular keyboards or full onscreen ones, the Dynamic Keyboard works with a variety of input devices, such as a mouse, joystrick or touch-screen pad.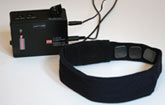 Headband-Operated EMG Switch A technology helps that people communicate simply by contracting the muscles in their face. Clients are fitted with a special headband and when they move their facial muscles, a switch or other device is activated.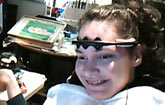 Headband-Operated EMG Switch with Mouse Click Box The electrical activity produced by contracting one's facial muscles activates a Mouse Click Box which, in turn, can be programmed to control a function on a computer or activate some other device.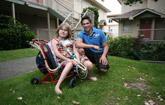 Mobile Floor Sitter An alternative to a wheelchair that allows people who need to sit close to the ground to travel independently with more ease.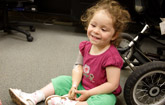 EMG Training for Prosthetic Arm EMG training teaches a young client how to control the muscles that will enable her to activate her new prosthetic arm.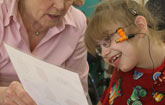 Laser Pointer This technology allows clients to activate toys and appliances by pointing their heads toward a laser-sensitive target. It can be used in classrooms to spell out words.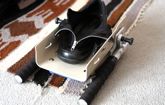 Modified Shoe Donner A commercial "shoe donner" was modified so a woman with special needs can put on her footwear independently.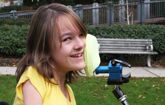 Multi-item Clamp A customized clamp enables clients to perform everyday activities independently, such as eating snacks and brushing one's hair.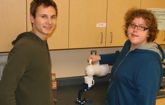 Portable Cup Holder A customized cup holder enables people to pour beverages without spilling.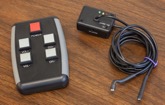 Simple Remote Control A very simplified version of a TV remote controls that allows people with a range of disabilities to control their media independently.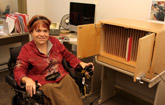 Accessible Filing Cabinet This filing cabinet, which sits horizontally and has vertical slots for files, is at just the right height for someone who uses a wheelchair. It's also easy to lock.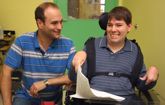 Accessible Paper Shredder CanAssist developed an attachment for a paper shredder that enables a young man to perform his favorite job.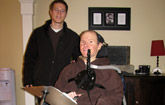 Portable Document Stand This document stand is designed for professional speakers and attaches easily to a wheelchair. The stand is both portable and adjustable.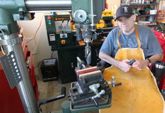 Adapted Drill Press A large, easy-grip handle was added to a drill press to make adjusting the height of the machine's working surface easier.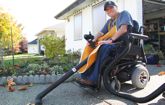 Adapted Shop Vac Two customized handles were added to the wand of a shop vac, making clean up much easier for a client with dexterity challenges.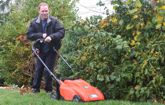 Lawn Mower Adaptation We modified a cordless lawn mower so it can be operated with one hand.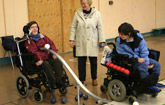 Bocce Ball Releaser A system that allows bocce enthusiasts to release balls by themselves. A switch attached to a wheelchair is triggered by the movement of a player's head, setting the ball into motion.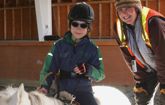 Modified Riding Glove A special glove was modified to enable a boy to ride a horse safely and with better control.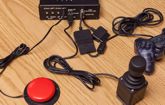 Accessible Gaming Controller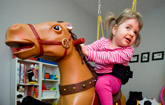 Adapted Rocking Horse We adapted a commercial rocking horse for a little girl who wasn't able to sit on it unassisted. The new support system will accommodate her as she grows.
Indoor Ball Launcher for Dogs A commercial ball launcher was adapted so it could be used by someone unable to use its remote control. The ball is launched by pressing a large accessibility switch.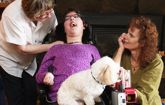 Mini Dog Ball Launcher This device enables people to play fetch with their dogs by pressing a single switch. It also lets them give the dog a treat.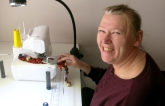 One-Handed Sewing Adaptations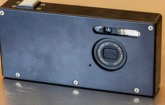 Switch-Accessible Camera Users control a camera's functions by pressing a single button on the device, or by connecting it to one or more accessibility switches.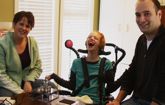 Automated Stamper A teenager with her own business receives a device that increases her involvement in creating beautiful greeting cards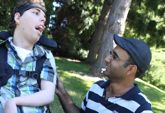 EMG Switch with iPod Two CanAssist technologies are combined so a young man can control an iPod simply by moving his facial muscles.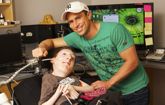 Gesture-Controlled Music Project This system uses the same technology as Nintendo's Wii remote to let people with disabilities create music using whatever part of their body they choose.
iPod Switch Interface The iPod Switch Interface lets people with very challenging disabilities control Apple's popular iPod music player with a single switch.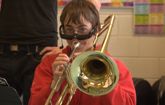 Real-Time Conductor Viewer This innovative technology lets users with very limited vision read music and watch a conductor simultaneously.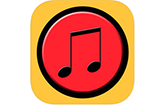 Switch Music app
Go to Top