Technology tag search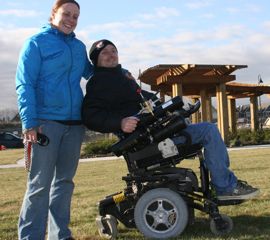 Tag results for: education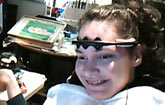 Headband-Operated EMG Switch with Mouse Click Box The electrical activity produced by contracting one's facial muscles activates a Mouse Click Box which, in turn, can be programmed to control a function on a computer or activate some other device.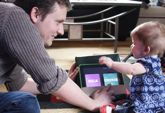 iPad Stand A simple stand for the iPad helps a toddler with vocal paralysis make choices and communicate with her world.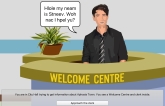 Aphasia Education app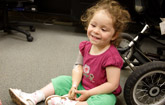 EMG Training for Prosthetic Arm EMG training teaches a young client how to control the muscles that will enable her to activate her new prosthetic arm.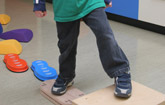 Foot-Activated Noise Maker This device encourages kids with developmental disabilities to learn how to walk. With each correct footstep, the user activates an entertaining noise.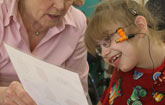 Laser Pointer This technology allows clients to activate toys and appliances by pointing their heads toward a laser-sensitive target. It can be used in classrooms to spell out words.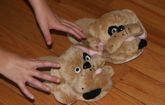 Musical Slippers Cute slippers play a wide range of music when a child successfully puts them on by herself. A great way to encourage independence.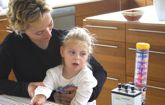 Rainstick Oscillator This device keeps a rainstick toy in constant motion so that its soothing sound is a source of relaxation for a little girl. It will also teach her how to control a switch all by herself.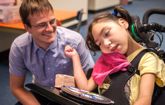 Switch-Accessible Spinner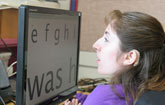 Switch-Activated Writing System For those with very limited vision who are also unable to type. Typing can be accomplished using a simple switch or EMG device. A very large font size can be selected.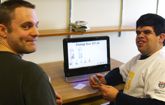 Visual Money Calculator A software program that helps people learn about currency and how to handle basic money transactions. Shows the steps in calculating and displaying a price, payment given and change owed.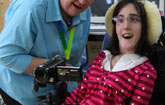 Adapted Video Camera This adapted video camera enables people with a range of disabilities to take footage independently. A mounting system attaches to wheelchairs, and a control panel makes operation easy.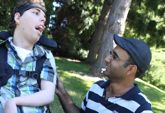 EMG Switch with iPod Two CanAssist technologies are combined so a young man can control an iPod simply by moving his facial muscles.
iPod Switch Interface The iPod Switch Interface lets people with very challenging disabilities control Apple's popular iPod music player with a single switch.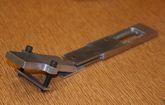 Piano Pedal Extender A horizontal extension of a piano pedal allows a musician to activate it while sitting further away from his piano.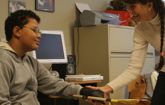 Radio Drum This device lets people generate percussion sounds by moving the sticks in a particular direction and at various speeds or by hitting the surface.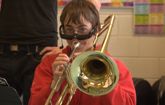 Real-Time Conductor Viewer This innovative technology lets users with very limited vision read music and watch a conductor simultaneously.
Go to Top