Technology tag search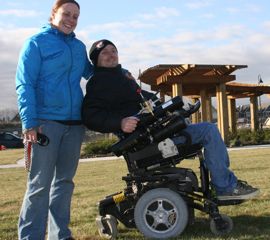 Tag results for: leisure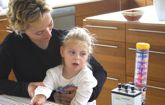 Rainstick Oscillator This device keeps a rainstick toy in constant motion so that its soothing sound is a source of relaxation for a little girl. It will also teach her how to control a switch all by herself.
Automated Billiards Device A sophisticated device that allows people with a range of disabilities to play billiards independently.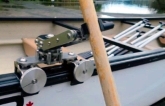 Canoe Paddle Support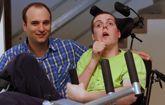 Modified Recumbent Stepper We modified a recumbent stepper machine for a young man who has very specific physical requirements along with a great desire to exercise.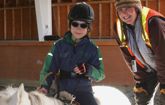 Modified Riding Glove A special glove was modified to enable a boy to ride a horse safely and with better control.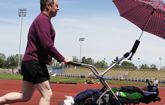 Modified Running Stroller A running stroller was modified so that a little girl could lie in a fully reclined position.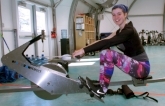 Rowing Brace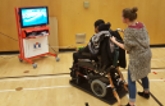 Wii Board for Wheelchair Users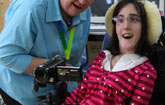 Adapted Video Camera This adapted video camera enables people with a range of disabilities to take footage independently. A mounting system attaches to wheelchairs, and a control panel makes operation easy.
Indoor Ball Launcher for Dogs A commercial ball launcher was adapted so it could be used by someone unable to use its remote control. The ball is launched by pressing a large accessibility switch.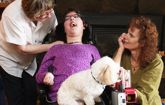 Mini Dog Ball Launcher This device enables people to play fetch with their dogs by pressing a single switch. It also lets them give the dog a treat.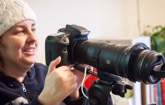 SLR Camera Control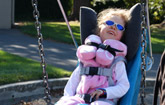 Swing-Enabling System A special seat was modified for a little girl so that she can swing in the park for the first time. The seat attaches securely to any standard swing in any park, and keeps the girl reclined.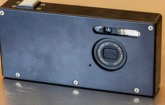 Switch-Accessible Camera Users control a camera's functions by pressing a single button on the device, or by connecting it to one or more accessibility switches.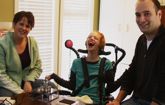 Automated Stamper A teenager with her own business receives a device that increases her involvement in creating beautiful greeting cards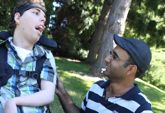 EMG Switch with iPod Two CanAssist technologies are combined so a young man can control an iPod simply by moving his facial muscles.
iPod Switch Interface The iPod Switch Interface lets people with very challenging disabilities control Apple's popular iPod music player with a single switch.
Go to Top