Technology tag search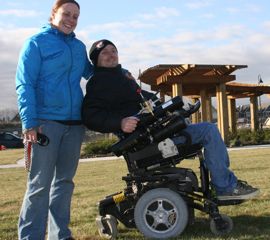 Tag results for: toy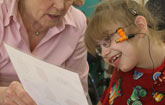 Laser Pointer This technology allows clients to activate toys and appliances by pointing their heads toward a laser-sensitive target. It can be used in classrooms to spell out words.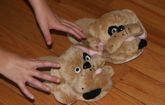 Musical Slippers Cute slippers play a wide range of music when a child successfully puts them on by herself. A great way to encourage independence.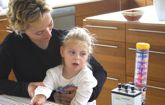 Rainstick Oscillator This device keeps a rainstick toy in constant motion so that its soothing sound is a source of relaxation for a little girl. It will also teach her how to control a switch all by herself.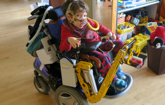 Robotic Grabber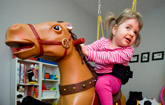 Adapted Rocking Horse We adapted a commercial rocking horse for a little girl who wasn't able to sit on it unassisted. The new support system will accommodate her as she grows.
Indoor Ball Launcher for Dogs A commercial ball launcher was adapted so it could be used by someone unable to use its remote control. The ball is launched by pressing a large accessibility switch.
Remote Control Car Modification A remote control toy car was modified so its functions could be controlled by an accessibility switch.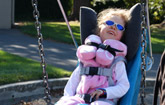 Swing-Enabling System A special seat was modified for a little girl so that she can swing in the park for the first time. The seat attaches securely to any standard swing in any park, and keeps the girl reclined.
Go to Top