Technology tag search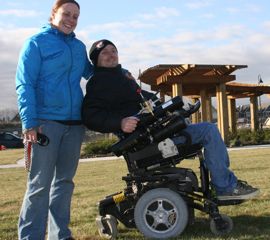 Tag results for: wheelchair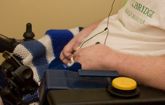 Cellphone Mount and Switch-Adapter Box This dual-function device enables a client to use a cellphone without having to rely on his fingers or a caregiver.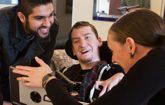 DynaVox and Tablet Mounting System Two customized mounting brackets hold a DynaVox and tablet securely, while the user is in bed and when he is seated in a power chair.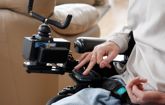 Flexible Cell Phone Mount This device attaches to a wheelchair and holds a cell phone securely in place to make dialing easier.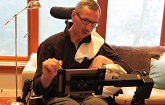 Motorized Tablet Mount
Voice Amplification System Modification We modified a commercial voice amplification system so a client using a wheelchair could use it independently and be heard more easily.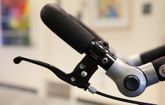 Customized Hand Brake System for Wheelchair Customized hand brakes were added to a non-standard wheelchair for extra control and safety.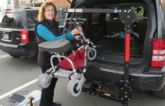 Hitch Lift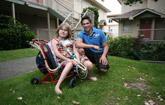 Mobile Floor Sitter An alternative to a wheelchair that allows people who need to sit close to the ground to travel independently with more ease.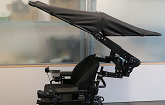 Motorized Wheelchair Raincover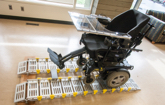 Portable Ramp with Modifications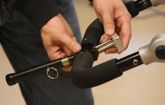 Reclining Wheelchair Support A detachable metal support connects to a wheelchair handle so that the user is fully reclined and supported when a commode seat is used.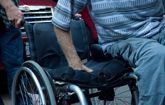 Wheelchair Transfer Cushion This padded cushion fits securely over the wheel of a wheelchair, making transfers easier and more comfortable.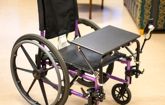 Lap Saver for Wheelchair Users
Liquid Meal Wheelchair Mount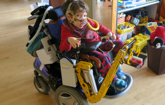 Robotic Grabber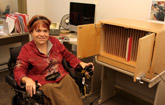 Accessible Filing Cabinet This filing cabinet, which sits horizontally and has vertical slots for files, is at just the right height for someone who uses a wheelchair. It's also easy to lock.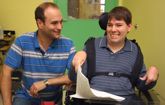 Accessible Paper Shredder CanAssist developed an attachment for a paper shredder that enables a young man to perform his favorite job.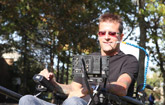 Polecam Power Chair This technology enables videographers to shoot footage while in a wheelchair. A boom arm attached to the chair is operated with a sip-and-puff device, while the camera that sits on top is controlled by a joystick.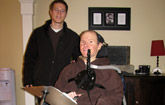 Portable Document Stand This document stand is designed for professional speakers and attaches easily to a wheelchair. The stand is both portable and adjustable.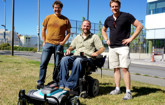 Lawnmower for Power Chair
Automated Billiards Device A sophisticated device that allows people with a range of disabilities to play billiards independently.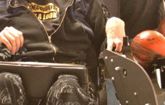 Switch-Activated Bowling Ramp A commercial bowling ramp was modified so it can be operated with an accessibility switch, is powered by a motor, and sits to the side of a wheelchair.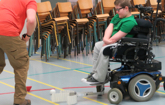 Wheelchair-Mounted Hockey Stick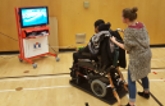 Wii Board for Wheelchair Users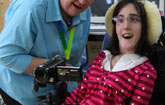 Adapted Video Camera This adapted video camera enables people with a range of disabilities to take footage independently. A mounting system attaches to wheelchairs, and a control panel makes operation easy.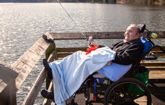 Fishing Systems
Indoor Ball Launcher for Dogs A commercial ball launcher was adapted so it could be used by someone unable to use its remote control. The ball is launched by pressing a large accessibility switch.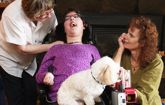 Mini Dog Ball Launcher This device enables people to play fetch with their dogs by pressing a single switch. It also lets them give the dog a treat.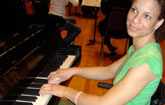 Head-Activated Piano Pedal A talented musician was unable to use her piano pedals. We created a technology that lets her push the pedal by moving her head.
Go to Top