Our history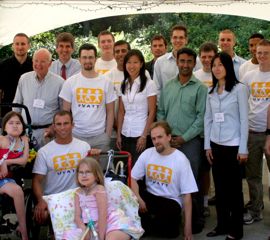 The challenge
In British Columbia, 687,000 people or about 16% of the population live with a disability. With an aging population, provincial disability rates are projected to increase dramatically over the next few years. In fact, soon virtually every family in B.C. is expected either to have a member living with some type of disability or to be involved with people with disabilities as part of their personal network. These percentages and their impact on society are representative of trends across Canada.
CanAssist's beginnings
CanAssist - formerly the University of Victoria Assistive Technology Team (UVATT) - was established in 1999 by Dr. Nigel Livingston. Dr. Livingston was introduced to the special needs community after his daughter, Hannah, was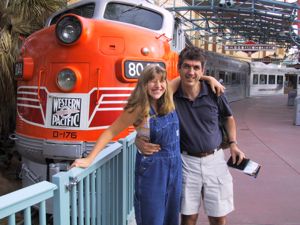 diagnosed with Angelman syndrome. During his interactions with health-care practitioners and those with disabilities, he discovered the great need for assistive technologies that could be tailored or customized to meet the sometimes highly specific challenges of individuals. Such devices were not readily available due to factors such as the complex challenges involved in developing them, their cost of production and the limited market for them. UVATT (CanAssist) was formed to address this need by making use of the outstanding resources at the University of Victoria.
Accomplishments to date
CanAssist's first project dates back to 1999, when Dr. Livingston and a volunteer staff member developed a finger-activated switch to control a cassette player. Their client was a young man who had suffered a near-drowning accident as a child. Then a resident at the Queen Alexandra Centre for Children's Health, he was blind, unable to talk or walk, and only able to partially move one finger. The project was a success and more requests followed quickly.
Since then, CanAssist has provided direct assistance to hundreds of clients, including infants, children, adults and seniors from across the province. The team has also helped clients from places as far away as New Zealand, Scotland and Kenya. In addition, our software and online learning and community building tools have been made directly available to many hundreds of users over the Internet. Our technologies range from the simple - for example, an adjustable umbrella holder that attaches to walkers and wheelchairs to protect users from the sun and rain - to the very complex, such as a communication system for those with very challenging disabilities. Examples of some of our projects are featured in our Technologies and devices section.

Today, we receive four to five requests for assistance each week. We have engaged more than 3,000 students and more than 200 university faculty and staff in our activities. As well, more than 200 community volunteers have participated in our program, including retired physicians, machinists, seamstresses and engineers.
In recognition of the success and impact of our program, CanAssist gained formal recognition in May 2008 as a unique and community-centric (unincorporated) organization of the University of Victoria by UVic's Senate and Board of Governors.
To learn more about CanAssist's accomplishments, please look at our Milestones and awards page.

Go to Top