Relationship with UVic
CanAssist is an organization of the University of Victoria and is aligned with the university's vision and strategic plan. CanAssist is also integral to UVic's support for persons with disabilities and its outreach and community engagement goals.
Together, CanAssist and UVic demonstrate that universities can go beyond their traditional education and research mandates, by directly providing meaningful and much-needed services to the community.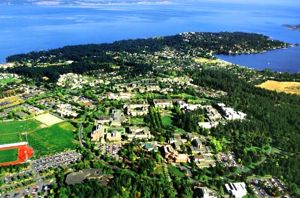 CanAssist operates as an internal unit of UVic, subject to all the university's relevant policies, procedures and requirements. CanAssist ultimately reports to the UVic Board of Governors and UVic Executive (as do all UVic programs), through the Office of the UVic Vice-President Academic and Provost.
CanAssist also reports to an Advisory Board comprised of senior university-based members and members from the external community who, through their experience or position, provide expertise and advice on the activities and operations of the organization.
In addition, CanAssist benefits from the advice of an Academic Research and Evaluation Committee, which identifies, recommends and prioritizes CanAssist activities designed to advance and integrate the university's educational and research missions.
As with any large-scale internal UVic entity, CanAssist receives very significant support and advantages as a result of being based at the university. These include access to space, specialized facilities and equipment, and other services. CanAssist has direct access to the university's highly talented and motivated student population, as well as the expertise of the university's diverse research community.
Go to Top