Technology testing opportunities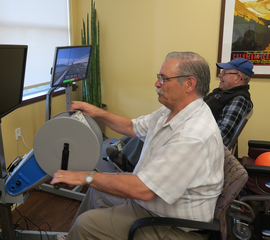 CanAssist often requires people to test new technology prototypes and provide feedback on their effectiveness. This testing is done on a voluntary basis and there is no cost. In most cases, families testing a technology can continue to use the solution for as long as it continues to be useful.
Current testing opportunities
---
Caregiver Intercom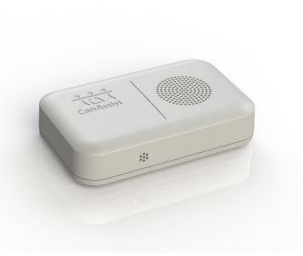 What is it?
The Caregiver Intercom provides an easy way to connect with a senior who has difficulty using a standard zhome phone. The device uses a regular landline connection with Caller ID to operate – no internet connection is required. The intercom allows the caregiver to call a senior without the need for the senior to manually pick up the phone.
Key features
the intercom is always plugged in, so no batteries are required (in case of a power outage, the home phone becomes operational as normal)
plugs into a landline phone; no internet connection is required
includes passcode protection, so only selected caregivers can access the intercom
when a call comes through the intercom, a loud beep notifies the senior that someone will be speaking to them soon
the senior does not have to manually pick up the receiver
provides a loud, clear sound, with the option to raise the volume remotely
detects when the phone has been left off the hook, bypassing the "busy tone"
Who is it for?
The Caregiver Intercom is intended for seniors who have difficulty using a home phone and would benefit from an immediate connection with their caregivers through an intercom system. These seniors might have a physical or cognitive condition that makes it challenging for them to answer the phone. The intercom is designed to help alleviate caregivers' concerns and improve their communication with vulnerable seniors.
Volunteer to test the Caregiver Intercom
The Caregiver Intercom will be provided and installed at no cost to eligible families and can be kept for as long as it is useful. In return, CanAssist seeks feedback on the technology's effectiveness.
If you are interested in the Caregiver Intercom and believe it would benefit a senior you care for, please contact Megan Yon, CanAssist Client Relations Coordinator, at 250-853-3874 or myon@uvic.ca
---
Tap2Chat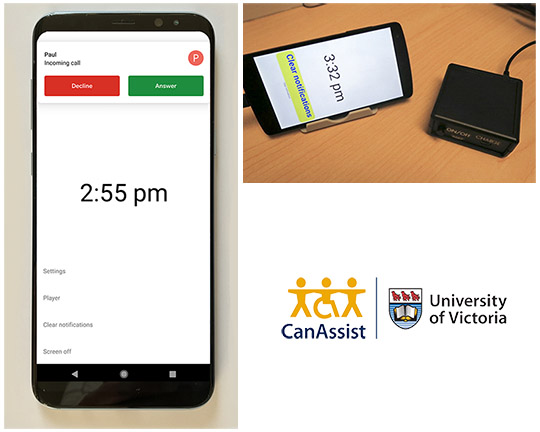 What is it?
Tap2Chat is designed to make using an Android device simple and fast for accessibility switch users. The application enables the user to make calls, send text messages or answer a phone call through the press of their switch. Tap2Chat works through Bluetooth connection, meaning the user can place their accessibility switch anywhere – depending on the area of their body over which they have control.
Key features
answer and hang up a phone call by the press of an accessibility switch
visually uncluttered interface
ability to send text messages
Who is it for
Tap2Chat is for Android device users that use an accessibility switch to access and control their device.
Volunteer to test Tap2Chat
To learn more how you can test the application, contact Megan Yon, CanAssist Client Relations Coordinator at 250-853-3874 or myon@uvic.ca
Go to Top