Download an app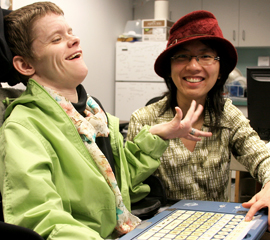 The following CanAssist software technologies are available for immediate download:
| | | |
| --- | --- | --- |
| About My Day | An app that allows caregivers to make notes about the daily experiences of an individual with whom they are working. The app replaces paper journals often carried by the individual, as a means of sharing information among family and support workers. | |
| | An app that plays like a game, but was designed with the help of speech language pathologists who wanted a tool to help care providers learn how to interact with individuals with aph asia. | |
| CanGo | An innovative app designed to increase independent travel by people with cognitive disabilities. CanGo uses GPS satellite navigation and online city transit schedules to guide people in safely using public bus systems. | |
| CanJournal | An app that allows users with memory challenges to record milestones and setbacks and play them back so they can retrace their recent past. | |
| CanPlan | An app for the iPhone, iPad and iPod Touch that breaks down any task into a series of steps using photos, audio and text. | |
| CanTunes | CanTunes provides an extremely simple way for people with a range of cognitive disabilities to independently select and play music on an iPad. | |
| CanWork | CanWork promotes independence and builds confidence by helping people with cognitive challenges complete work-related tasks successfully. Virtually any task can be broken into a sequence of easy-to-follow steps. | |
| | Choices2Go is an app for the iPad that provides visual, in-the-moment choice-making opportunities for people who might not otherwise be reliably understood. | |
| | PhraseChat is a keyboard for iOS devices that gives users the ability to quickly generate text messages based on pre-loaded phrases. | |
| | Speak Today enables users to easily output a voice overview of their calendar events. | |
| | The Switch Music app allows users to control playback of their music collection easily with the Switch Control feature on an iPad. | |
| | An app that converts the movement of an Apple device - such as the iPhone, iPod Touch or iPad - into many possible forms of musical expression. | |

Check out other CanAssist technologies.
Go to Top