CanPlan app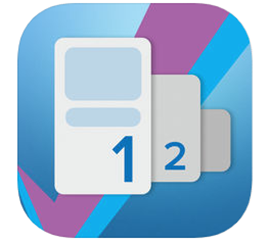 What is it?

CanPlan is a software application that makes it possible for users with cognitive challenges to break down virtually any task into a sequence of easy-to-follow photos. The user goes through an activity with a support worker or family member. Together, they take pictures of each step in a task (with or without text and audio prompts) and then save it under a particular category in the program. Along with this sequencing feature, the app also includes a scheduler to ensure each activity is completed on time. CanPlan works on Apple's iPhone, iPad and iPod Touch.
What does it do?
CanPlan allows users and their support workers to break down any task into easy-to-follow steps illustrated with photos, captions, speech and video recordings. Tasks can be scheduled to prompt the user when to do them, and are checked off when completed.
Who is it for?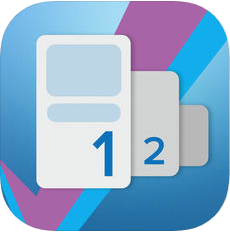 People with brain injuries and other cognitive disabilities who need support with completing tasks.

Support
Check out the video below, in which Wendy Miers, of Easter Seals Crossroads in Indiana, provides an excellent demonstration as to how CanPlan works:
---
Jean Pierre's story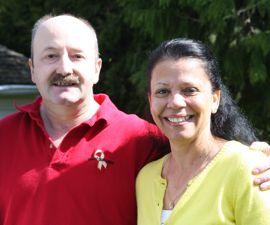 The following article details how CanPlan was developed and introduces the app's first user, Jean Pierre. The app was initially called the Task Manager.
Jean Pierre Forest was a skydiver, the co-founder of a highly successful surveillance system company, and an avid videographer before a plane crash in 2008 changed the course of his life.
While still physically strong and mobile, the Vancouver-area resident suffered a traumatic brain injury that has had a significant impact on his memory.
J.P.'s hard work and motivation have had a great effect on his rehabilitation. But like many people with brain injuries, it can be difficult for him to remember how to complete some tasks that require a specific sequence of steps.
J.P's support team at WorkSafeBC asked whether CanAssist could provide a software tool that would help him remember tasks that require a sequence of steps.
"There are many applications that help people with scheduling, but they don't have a sequencing aspect to them," explains Peter McGuire, of CanAssist's engineering team.
"These applications may remind J.P. to go to work every Thursday, but they won't remind him of all the steps he needs to take in order to actually get to work."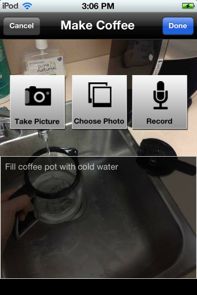 So Peter developed an application that includes this crucial sequencing feature, along with a standard scheduling component. The new app was written to work on Apple's ubiquitous handheld devices, including the iPhone, iPod Touch and iPad.
Initially called the Task Manager (later, the app's name was changed to CanPlan), the tool makes it possible to break down virtually any task into a series of photos and accompanying text. So, for example, J.P. and a support worker could make lasagna, take a picture of each step with his iPod Touch and add text whenever more specific instructions were needed. Then they could save the series of photos, name it "Lasagna" and put it in a category called "Cooking."
In future, when J.P. wants to make lasagna or some other meal, he can simply pick up his iPod, go to "Cooking," and follows the steps, swiping the screen with his finger when he's ready to move to the next photo.
"It works great – I can add whatever tasks I need to remember," says J.P. "I will add more and more tasks as I get more to do at work, and when I start taking the bus to work."
J.P. has recently returned to work at the company he co-founded. Being extremely focused while on the job, the app has been instrumental in reminding J.P. to stop regularly for breaks. During these breaks, he performs a series of therapeutic stretches – all illustrated in photos – that help prevent back pain.
J.P.'s responsibilities at work will likely be increased in the months to come, and he will also be taking the bus to and from work on his own. The Task Manager will be there to guide him every step of the way.
Go to CanAssist's Video Gallery to view more technology videos.
Acknowledgments
CanAssist is grateful to the Vancouver Foundation for supporting the development of the CanPlan app.
Go to Top