Remote Control Car Modification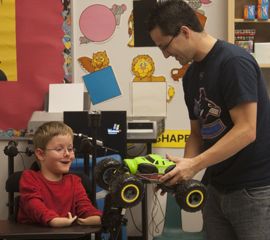 A six-year-old boy wasn't able to participate in playtime at his school, so CanAssist was contacted to find a way for him to feel more included.
Ethan, a Grade 1 student at Colwood Elementary School, has a condition called Arthrogryposis, which means that movement in his joints is severely restricted. He manages to move his arm by biting down on an attached armband and hoisting his limb into position with his mouth. As a result, it was impossible for him to participate in most activities during playtime in the gym.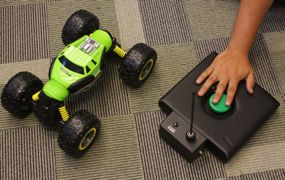 Paul Leslie, an electrical engineering specialist at CanAssist, learned that Ethan loves toy vehicles. So he set to work to modify a remote control car. He purchased a fairly typical car with two joysticks – one controls forward-backward movement, the other steers the car left and right. He dismantled the toy's remote control and interfaced it with a circuit he designed. These changes would allow Ethan to control the car from a specially constructed joystick that he could rest his arm upon. Paul (shown in the photo at the top of this page) says the joystick was embedded into a vinyl platform that could be easily removed and cleaned.
On delivery day, Ethan was bubbling with excitement. Not surprisingly, the toy car was a huge hit among all the Grade 1 students, who eagerly lined both sides of a school hallway and cheered as Ethan test drove the new car.
Ethan's learning support teacher, Anne Harbottle, says the device is getting a lot of use and attracting much positive attention.
"It is wonderful for Ethan to have the car to play with when his peers are in gym," says Anne. "He is able to drive it as well as his peers, which give him a great sense of pride. It also makes him feel more included in gym activities that he normally would feel he is missing."
CanAssist is very grateful to the CKNW Orphan's Fund, which provided the funding for Ethan's Remote Control Car Modification.
Go to CanAssist's Video Gallery to view more technology videos.
Go to Top