Rainstick Oscillator
Listening to the soothing sounds of her colorful rainstick helps three-year-old Anika to fall asleep and to feel more relaxed during trying times.
In fact, this particular rainstick is often the only means of calming the little girl, who has cerebral palsy, spastic quadriplegia and a visual impairment.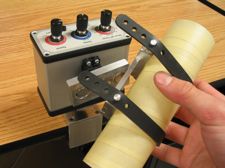 Unfortunately, the rainstick's pattering, rain-like sounds only last a few seconds – until a parent or caregiver takes the time to turn it over again. Recognizing the important role the rainstick plays in the family's life, a Victoria physiotherapist referred them to CanAssist.
In response, CanAssist co-op student Mike Lewis set out to develop an automated device that clamps onto any tabletop surface. The device has rubber straps that can hold any rainstick securely, while rotating it back and forth continuously, so that the beads inside fall up and down against the tube and make a gentle raining sound.
Mike included a switch-activation outlet so that one day Anika will be able to use a large switch or button to turn on the device all by herself. Furthermore, the rainstick's sound can be varied thanks to controls on the device that enable the user to alter its speed and the length of time it pauses at each end of its pendulum motion. The system is powered by a rechargeable internal lithium battery and can be set on a timer.
When CanAssist delivered the Rainstick Oscillator to Anika, the little girl was delighted and instantly attentive to the soothing sound it made. Her mother, Ivana, learned how to set it up and was thrilled at its ease of use.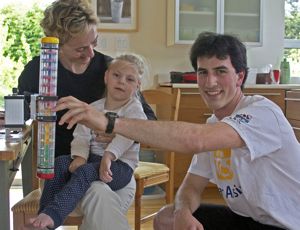 "This is just beyond what I had hoped for," said Ivana. "It is just perfect and will make such a big difference for us."
Previously, having to flip the rainmaker was a constant effort, says Ivana. Now, with the Rainstick Oscillator, the family can have the sound playing continuously without the difficulty of trying to hold Anika, feed her and flip the rainstick all at the same time.
Importantly, the device is small, light-weight and portable, allowing the family to take it on trips or to the hospital if necessary. It can also sit on a portable tripod when a table isn't available.
"This rainstick really seems to be a part of their lives – they take it with them wherever they go," says Mike. "As soon as Anika started playing with it, she had a happy little grin on her face."
(This device was delivered in May 2010.)
Go to CanAssist's Video Gallery to view more technology videos.

Go to Top