Switch-Accessible Camera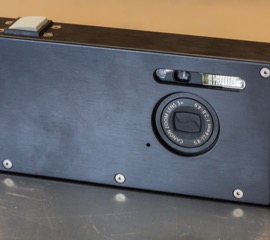 What is it?
CanAssist's Switch-Accessible Camera* is a highly simplified point-and-shoot camera designed for users with a range of physical or cognitive disabilities. All of the camera's functions are controlled by either pressing the case-mounted button located at the top on the camera or through an external button - called an accessibility switch - plugged into the side on the camera. A standard mounting hole, located on the bottom of the device, allows the camera to be mounted to nearly all camera mounting platforms.
(* formerly called the Single-Button Camera)
Key features
One- or two-switch operation
Machined aluminum enclosure for durability and ease of mounting
The menu can be set up for visual and audio feedback
Based on Canon point-and-shoot camera
Compatible with most accessibility switches
Who is it for?
For anyone with difficulty manipulating a camera or functioning a camera menu.
---
Blue's story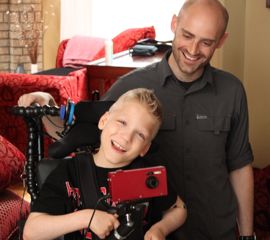 Twelve-year-old Blue loves poring over photographs. But because he has cerebral palsy and dexterity challenges, Blue had to be satisfied admiring other peoples' photographic views of the world, never his own.
Earlier this year, the boy's passion for photography inspired his occupational therapist to contact CanAssist to find out whether we could make a camera that he would be able to use.
In fact, CanAssist had already developed a camera system that could be customized for a wide range of users - one that would suit Blue's needs perfectly.
At the heart of the system is a Canon digital point-and-shoot camera. To make the camera's functions controllable by a single easy-to-push button, CanAssist engineering staff programmed a tiny microprocessor that they attached to the outside of the Canon. This tiny computer, along with an external battery and the Canon camera, were enclosed together in a shiny new aluminum case.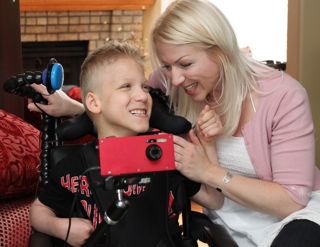 "The microprocessor allows us to communicate with the camera externally," says Mike Jackman, who handled the mechanical side of the project, while Peter McGuire, handled programming and electrical requirements.
"That way, everything can be accomplished through software and the press of a single button. It's pretty cool."
When the button on the top of the case is held for five seconds, the camera turns on. The display screen at the back of the camera then scrolls through each function, one at a time. When the preferred function appears, the user presses the button again. If he chooses, "take photo," for example, his next click of the button will snap a photo.
Other possible functions to choose from include: video recording; zooming in and out; reviewing stored photos and videos; deleting content; and turning the system off. Most of these functions were deactivated for Blue, who needed the simplicity of being able to turn the camera on and to take pictures.
Blue's dexterity challenges also meant he would have trouble pushing the button on the top of the camera case.
So Peter and Mike ensured that the camera could be controlled by a very large button called a "Jelly Bean" switch (a product fromAbleNet). Blue, who is unable to speak, communicates using an electronic speaking device by pressing his head against this same large blue button.
"We've really tried to be mindful about making the camera as versatile as possible, so it can be used by people with many levels of ability," says Mike.
Delivering the new camera to Blue made all Mike and Peter's hard work worthwhile.
Blue grinned excitedly and began snapping photos of his mom as soon as the camera was mounted on a flexible metal arm in front of him. Dawn was thrilled by Blue's enthusiasm.
"Finding devices and activities that keep Blue's interest is just about impossible," she says. "But this camera is just perfect – it looks good and it works without a hitch."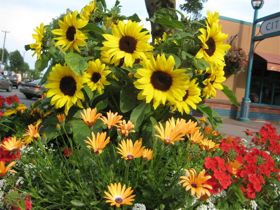 Downloading photos from the new system is as easy as plugging a USB cord into both the camera case and a computer. The camera does all the work automatically. Recharging is just as simple: a cord plugs into the camera and an outlet. The colour of this particular system was an easy choice too since Blue's favorite color is red.
"We are going to have such a great summer taking pictures with this," says Blue's mom, Dawn. "I can't thank you guys enough."
Meanwhile, Peter and Mike have begun working on the next version of the camera, which they hope will be made available to larger numbers of people with a range of disabilities.


Go to CanAssist's Video Gallery to view more technology videos.

Go to Top