Oven Loader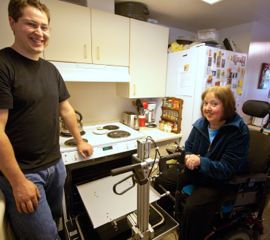 What is it?
The Oven Loader is a motorized device developed for an individual who was not able to safely load or remove items from her kitchen oven. This customized device allows the client, who uses a wheelchair and has limited dexterity, to use her oven at home independently and safely.
Key features
tilting tray slides in and out
motorized lift and control pad raises and lowers tray
locking wheels controlled by a hand lever
swivels for ease of movement and easy storage
Who is it for?
The Oven Loader could be beneficial to anyone who uses a wheelchair and has limited upper body strength or dexterity challenges.


---

Sylvia's story
Sylvia used to bake goodies and make crafts on a daily basis, often selling her creations at local craft fairs. These activities were not just tasks for Sylvia, but pastimes that she enjoyed immensely and found hugely rewarding.
Unfortunately, challenged with rheumatoid arthritis, hypothyroid and sciatica, her strength has decreased, along with the dexterity in her hands. While Sylvia accepts assistance with cooking and cleaning, getting help with baking and crafting doesn't allow her to experience the sense of accomplishment that comes from creating something on her own.
CanAssist developed a customized oven-loading system, which allows Sylvia safe access to her oven. A linear motor raises and lowers an aluminum tray via remote control. Sylvia controls the tray, which does all the heavy lifting, and then simply shifts the item she is baking onto the stovetop. Sylvia's occupational therapist, Anita, was instrumental in coming up with the original concept for the oven loader.
(The team also modified a plastic Lexan tray to allow Sylvia a solid and versatile platform on which to comfortably create her crafts or hold a book. The key feature is the lightweight design, which lets Sylvia attach the tray to her wheelchair – or remove it – without assistance)
Sylvia is now busy baking in preparation for upcoming Christmas fairs – her favorite type! Her goal is to earn some extra money with the items she creates, which is another way for her to be more self-sufficient. She's thrilled to be creating on her own again instead of having to wait for a support worker. "Being able to do these things on my own improved my outlook and sense of independence," said Sylvia.
Go to Top