Modified Carving Tool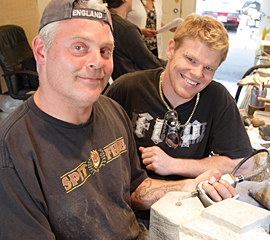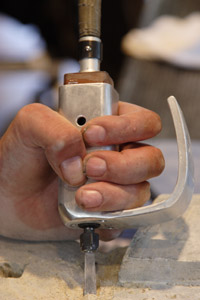 When Alistair Green sets out to carve a new sculpture, first he selects the perfect stone. He uses hand saws and chisels to get it into a workable shape, then employs smaller tools to turn the rock into a breathtaking work of art.
It usually takes six to eight months to complete a single sculpture, and having tools that work well can mean a huge difference in productivity. Alistair and his business partner, Garry Curry, run an art studio in Victoria. Both men are quadriplegic: Alistair was involved in a near-fatal car accident at the age of 20; Garry suffered a spinal cord injury in 1991. Since then, each has found meaning, direction and a livelihood in stone sculpting.
Some time ago, Alistair purchased an expensive electric chisel, which was very beneficial to his work but difficult for him to use. Its circular grip meant the tool would spin in his hands because he doesn't have the strength and dexterity to hold it firmly. Another problem was that as the motor heated up, the metal base of the tool would get too hot for him to grasp.
Alistair approached CanAssist, hoping we could modify the chisel so he could use it more easily and safely.
"The tool Alistair was using is called an impact chisel. It's really useful for very detailed work, but using the tool had become an ongoing problem," says Rick Clark, a mechanical engineering co-op student at CanAssist who took on the project.
Rick's solution was to create a square aluminum tube into which the chisel can slide and attach. A large curved handle ensures that Alistair's hand won't slip, even when he's applying a lot of pressure. The space between the new tube and the chisel lessens the problem of heat buildup, along with a special heat-resistant insert placed at the tool's metal base.
"This is just awesome! I feel more confident in the gripping of the tool," says Alistair. "Before it was only a few minutes until my hand was burning, now I can carve for hours at a time. I can finally put this expensive piece of equipment to good use!"
Rick's next project will be to create a modification for Garry's chisel.
"Garry is using the same tool, but his will be adapted differently - Garry's won't be reliant on using his hands at all," says Rick. Because Garry's disability is more extensive, the chisel will need to be attached to a special splint he wears on his forearm.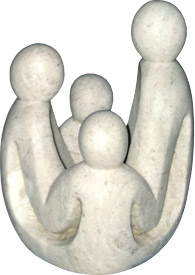 Garry and Alistair are co-founders of The Vancouver Island Society of Disabled Artists. The society, founded in 1995, specializes in making art accessible by designing tools and equipment to allow those with severe disabilities to fully realize their potential. For more information, visit the studio's Facebook page.
For Alistair, stone sculpting has been a way to regain control of his life. For Garry, creating stone sculptures has provided a new beginning.
"Sculpture can help you heal," Garry says in a video posted on the society's website. "Sculpture is a great way to celebrate life."
(This technology was first delivered in June 2009. Similar versions have since been provided to several clients.)
Read about the Stone Carving Vise CanAssist developed for Garry.
Go to CanAssist's Video Gallery to view more technology videos.
Go to Top