Accessible Filing Cabinet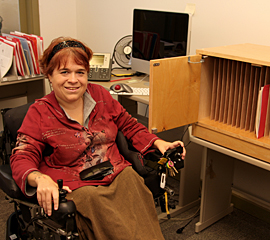 Living with Muscular Dystrophy hasn't stopped Rachel from having a challenging career. As the Human Rights Complaints Officer at the University of Victoria, Rachel deals with multiple cases at a time, some of which involve highly sensitive information.
The nature of Rachel's job demands that she have a lockable filing cabinet. Yet because of her disability, she has difficulty using a conventional cabinet, in which the vertical design requires a lot of bending and reaching.
On Rachel's behalf, the UVic Facilities Department researched accessible office furniture that was already available in the market but could find no filing cabinet that met Rachel's specific needs. So CanAssist was approached.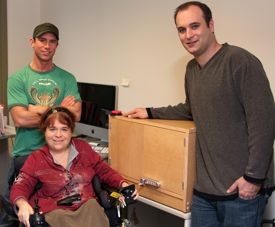 When CanAssist engineers met with Rachel to discuss her requirements for an ideal filing cabinet, all agreed that it should be easy to access, lockable and sit at a height that would make managing files from a wheelchair comfortable.
"We looked at all the options, including adapting an existing filing cabinet," recalls Darcy Lane, CanAssist's Hardware Manager. "But in the end, we decided to start from scratch."
CanAssist mechanical engineers built a wooden filing cabinet that sits horizontally, with vertical slots for easy file storage. The cabinet was designed to sit on a table at the level of Rachel's hands so that she wouldn't have to bend down or reach up when adding or removing a file.
Electrical engineers tackled the problem of opening and locking the cabinet's doors. Placing the necessary electronic equipment out of sight, they wired the cabinet so Rachel can easily unlock it by entering a four-digit code into a panel located on the cabinet's doors. To open and close the doors automatically, Rachel simply presses a red button that sits nearby.
"It's nice to have mechanical and electrical engineers working together in the same lab," Darcy notes. "When it comes to projects like this one, the type of work each group does really complement the other."
Rachel was excited to receive her new office equipment, saying that she would have purchased such an item if it had been available in the marketplace.
"I can't believe this product didn't already exist," she said, after trying out the cabinet for the first time in her office at UVic's Equity and Human Rights Department.
"I'm sure you will be able to use this design to help many other people in the workplace."


Go to CanAssist's Video Gallery to view more technology videos.


Go to Top