Multi-Sensory Entertainment Board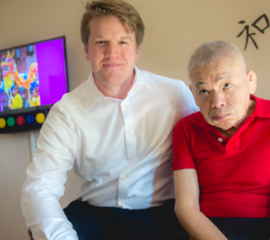 What is it?
An accessible interactive display for engaging with sounds, colors, photos, and music.
What does it do?
Responds to button presses to play music, play entertaining sounds, change colours, show Chinese symbols, and browse photos on the screen.
Who is it for?
This project was designed for an individual with cognitive disabilities of Chinese descent who wanted a way to access culturally relevant imagery and music in a very simple way. It can be adapted to contain any meaningful content for other individuals.
---
Kenneth's story
Kenneth is an older gentleman who lives in Patterson Home, along with other adults who have cognitive disabilities and are non-verbal. Stuart Munger, a director of the home, submitted a request to CanAssist for a technology that would help improve Kenneth's quality of life. When Kenneth was at home, he tended to sit in his bedroom not doing anything. Stuart noticed that Kenneth responds well to colors and shapes, particularly ones that relate to the older man's Chinese heritage. He had the idea that perhaps a computer monitor could display these symbols to help Kenneth engage more with the world around him.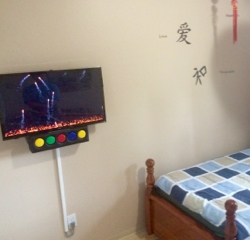 During an assessment visit, CanAssist's engineering team learned that while Kenneth enjoys the multi-sensory interaction with his environment, existing toys aimed at children are too limited for him. Working closely with Stuart Munger, CanAssist developed the Multi-Sensory Entertainment Board, a computer monitor with large buttons attached below. By pressing these buttons, Kenneth elicits a variety of colors, lights, music, entertaining sounds, meaningful photos and Chinese symbols.
Kenneth has become more animated and involved since receiving the Multi-Sensory Entertainment Board. Because the system is customizable, the staff at Patterson House can adjust the choices according to Kenneth's response. "We are trying to keep a daily record of things that he enjoys," said Karen Sprigg, the home's manager. "So far it seems to be the photos and the music."
As well as improving Kenneth's quality of life, the development of this particular technology will have a much larger-scale impact. The design has attracted the attention of the B.C. agency responsible for educational programming for the 200 most severely disabled youngsters in the public school system. Agency staff are working with CanAssist to bring the Multi-Sensory Entertainment Board to these students as a way to teach them how to understand the crucial concept of cause and effect. Importantly, the system can be customized to engage each student with symbols, sounds, photos and music that are of special interest to them
Go to Top