Stone Carving Vise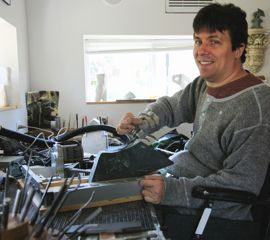 Key features
Customized vise holds pieces of stone securely
Powered with an electric car jack
Other materials include a wooden base and aluminum frame
Used for creating smaller stone sculptures


---
Garry's story
Garry Curry is one of a group of artists who work at a Victoria-area studio, turning slabs of stone into gorgeous sculptures.
The fact that all the artists have challenging disabilities doesn't make any difference to the beauty of their work. But it does have an impact on the ease with which they are able to use various tools.
Not long ago, CanAssist made chisels easier to use for Garry and another sculptor, Alistair Green. More recently, Garry approached us with a plan to create a vise that would hold a smaller piece of stone securely in place when an artist worked on it.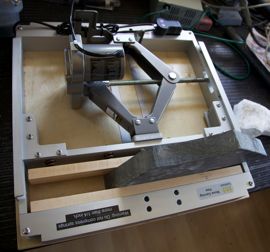 "Gary had a vise from Canadian Tire that wasn't working for him – he had trouble opening it," says Mike Lewis, the engineering co-op student who worked on the project.
So Mike set to work, using an electrical jack for cars as a starting point. Since the jack can easily lift a car, it would have no problem keeping a piece of stone in place.
The base on which the jack sits is made of wood and these were bolted to a lightweight aluminum frame. Wooden "jaws" with springs attached were added to hold a slab of stone in place. The electric vise opens and closes the jaws with the simple press of a button.
"It was a pretty inexpensive solution," says Mike. "The fact that it is powered electrically was the key for Garry being able to use it easily.
"The stone carvers can operate it themselves rather than having someone else doing it for them."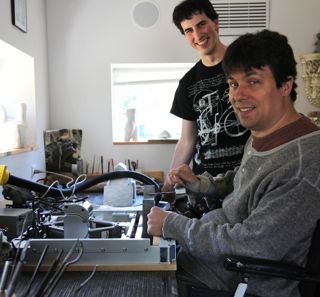 Garry and Alistair, who are both quadriplegics, say that the new vise is perfect for creating smaller sculptures and is used frequently by the artists at the studio.
"It is not huge and cumbersome and fits perfectly in the studio space," says Garry. "We love that the buttons are great for our dexterity needs."
Garry and Alistair have both found a very meaningful livelihood in stone sculpting. The two also head the Vancouver Island Society of Disabled Artists. For more information, check out the studio's Facebook page.
Go to CanAssist's Video Gallery to view more technology videos.
Go to Top