Double Stroller for Teens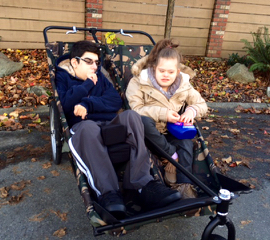 What is it?
A highly customized double stroller that is large and robust enough to accommodate two teens.
Key features
a customized tubular steel frame
durable nylon fabric for the seats, with five-point seat belts
one seat with a bolster for leg support and a footrest (required by Rylan)
a caster-style front wheel for easy turning
two rear brakes, controlled by hand
parking brakes
front splash guard
quick-release rear wheels, to make storage in the family van easier
stroller width fits standard city sidewalks
Who is it for?
Two teenage siblings who both use manual wheelchairs.
---

Kiarra and Rylan's story
The McLure family loves family walks, camping trips and other outdoor adventures. However, as teenaged siblings, Kiarra and Rylan got older, participating in such outings became increasingly difficult.
Both teens use manual wheelchairs, which they are unable to operate independently. No commercial strollers can accommodate the size and weight of two teens sitting side by side, so heading outdoors required two adults.
"This is something we spent endless hours researching but nothing was commercially available until we came in contact with CanAssist," said the teens' mom, Fiona.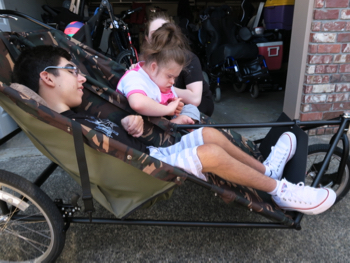 CanAssist's engineering team got to work, using some parts from a commercial stroller, but customizing most. The project was made possible by both the CKNW Orphans' Fund and Variety – The Children's Charity.
The robust new stroller has numerous important features, including a tubular steel frame, durable nylon fabric for the seats, leg and foot support for Rylan, two hand-controlled rear brakes, and parking brakes.
The stroller was a perfect fit for Kiarra, 16, and Rylan, 15, who live in Vancouver.
"We have a new freedom with a double jogger stroller that allows the opportunity and flexibility for outings when only one parent is available," Fiona wrote to CanAssist recently. "The process was efficient and everybody was so helpful. We are so very grateful to everybody involved."
Go to Top