Mobile Floor Sitter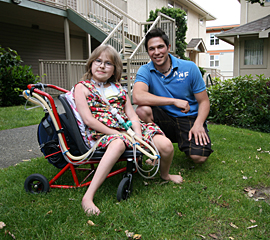 When meeting the McDonald sisters for the first time, one immediately senses each girl's energy and determination. Haley and Skye both have a rare degenerative nerve disease, in which their upper bodies have very limited muscular function, while their legs and feet have remained strong.
Having an agile lower body meant Haley was able to move around by sitting on the foot pedals of a full-size wheelchair and propelling herself along the floor.
Noticing this, Haley's occupational therapist at the Queen Alexandra Centre for Children's Health contacted CanAssist to see if there was a more effective way for the girl to travel.
"She was used to pulling a full-sized wheelchair along with her," recalls Ryan Truant, CanAssist's technical coordinator. "It was a very difficult way to move around."
Ryan met with the McDonald family a number of times to figure out what was required, and then designed the Mobile Floor Sitter. This device was created with the goal of increasing Haley's independence and freedom both at home and in school.
The Mobile Floor Sitter had to be made from scratch, as there are no existing wheelchairs that sit so low to the ground. The device is designed with a very low profile and sits on casters so that Haley can easily pull herself along and move in different directions. The unit is also equipped with an under-seat attachment to accommodate her ventilator, though she can also hang this on the back. Handlebars are situated at the back of the chair for a caregiver to push if Haley gets tired. Importantly, the casters are extendable, so the Floor Sitter can grow with Haley as she gets bigger.
Haley was happy to discover that the seat is comfortable and large enough for her to relax on in her living room while she plays video games with her feet.
"After we made the delivery to Haley, the family requested a second one for Skye," says Ryan. "Skye is a little older and her condition had progressed a little further, so she required a more robust, higher seat back, along with adjustable chest straps."
Another important difference was color: Haley chose her favorite color, red, while Skye preferred a black model.
Now the McDonald sisters are able to maneuver more comfortably and freely. When asked about the impact of the floor sitters on her daughters' lives, Rhonda McDonald, expresses her delight.
"The devices have improved their attitudes and both of their outlooks on life and have given them much more independence," Rhonda says. "Words cannot express my gratitude towards your team."
(These devices were delivered in 2006 and 2008.)
Go to Top