Phone-in Monitoring System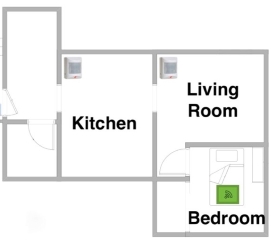 What is it?
The Phone-in Monitoring System enables people who care for vulnerable individuals to learn about their loved one's activity while the person is home alone. The device connects between the home telephone and the phone line; movements at home are tracked by unobtrusive sensors placed in key locations. The system works through the functionality of a home phone line and does not require any Internet connection or subscription.
Key features
includes sensors that track location and time of activity
information about the person's movements can be accessed remotely by family members and other caregivers using any phone
no Internet connection or subscription required
passcode access ensures security
Who is it for?
This device is for caregivers who may experience anxiety about a vulnerable loved one's activities when he or she is home alone. It offers peace of mind to the caregiver when leaving their loved one alone, so they are able to run errands, visit friends or complete other tasks without worry.
Go to Top