Tennis Racket Brace
What is it?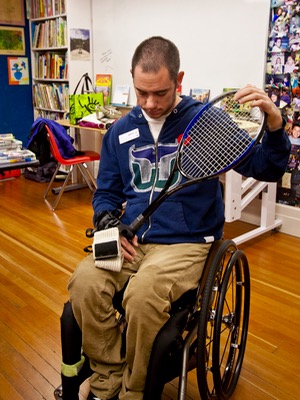 The Tennis Racket Brace was designed to help a client with limited gripping strength to be able to hold a tennis racket without having to tape it to his arm. CanAssist used a commercial wrist brace and added strong, comfortable tensor straps. In addition, rubber padding was added to the outside of the brace to enable the user to easily push his wheelchair.
Key features
Breathable and gentle on skin
Rubber pad for easy pushing on rims of wheelchair
Adjustable Velcro straps
Could be used for other types of racket sports
Who is it for?
For anyone wanting to play tennis with limited grip strength.
Go to Top