Switch-Activated Bowling Ramp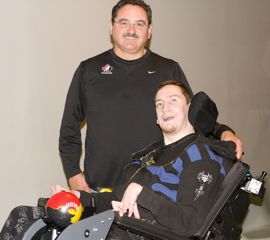 Key features
Modified commercial bowling ramp
Motor-driven
Controlled by squeezing a single accessibility switch
Mounted on the side of a wheelchair


---
Tyler's Story
In 2008, when he had just entered his 20s, Tyler Hinksman suffered a head injury during a workplace accident. Since then, the young man has worked hard at his rehabilitation and has been eager to return to recreational activities.
Not long ago, Tyler's friends and family took him to a local bowling alley in Nanaimo that is accessible to wheelchair users. And while he enjoyed it, Tyler had to rely heavily on others to participate.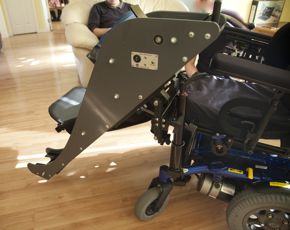 So Tyler was referred to us through the CanAssist-WorkSafeBC initiative. Our engineering team was asked if there was a way to give the 25-year-old more independence while playing.
The team's first step was to purchase an IKAN Bowler, a commercial ramp for 10-pin bowling balls that attaches to the front of wheelchairs. On its own, however, this device would not work for Tyler.
"To start, the bowling alley in Nanaimo that's accessible to wheelchair users has five-pin lanes. So we had to adapt the IKAN so it could handle five-pin balls as well as ten-pin ones," explains Tim Cummings, who handled the mechanical side of the project. "We did this by adding rails to the ramp that fit a five-pin ball."
Tim also developed a custom bracket that positioned the ramp to the side of the wheelchair instead of at the front – a requirement that would address Tyler's field of vision and leg spasms.
With the IKAN Bowler, wheelchair users typically propel a ball down the ramp by jolting the ramp with their wheelchair. This wouldn't work for Tyler since his ramp is located on the side of his wheelchair, so Tim fashioned a narrow plastic cradle to hold the ball in place.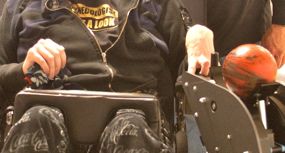 CanAssist's Paul Green worked on the electrical components of the project. He added a battery-operated motor that causes the cradle to tip forward when activated by an accessibility switch, thus releasing the ball. Holding the switch, Tyler simply squeezes it once the wheelchair and attached ramp are lined up in the position he wants.
"In the end, the IKAN Bowler was really a shell to put our system into," says Paul. "We made quite a few changes, including making it switch-accessible and motor-driven."
In addition, Paul added safety features to ensure no one's fingers are pinched by the cradle's movement. These features include an "attendant switch," which requires that a second person press a button in order for Tyler's switch to operate.
On delivery day, CanAssist brought the customized ramp to Brechin Lanes and were met by Tyler and members of his family and care team. With minimal support from a caregiver, who placed the bowling ball on the ramp, Tyler was able to control the aim and timing of each launch.
Since that day, Tyler has enjoyed regular outings to the bowling lanes, which usually include a meal and extra time for socializing.
"Everything is great – we have a hoot at the bowling alley," Tyler's mom, Deb, told CanAssist recently.
And, by all accounts, the young man frequently beats everyone.
"He kicked our butts at bowling last week," admits Marcia, an LPN at Harmony House, where Tyler lives. "Ty loves it."
Go to Top