Push Bike for Toddler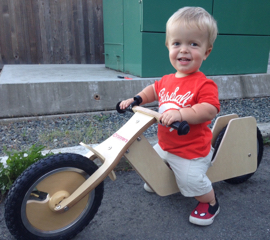 What is it?

A wooden commercial push bike modified for a young boy who was unable to use standard products.
Key features
two identical custom wooden frames
frames and wheels match the user's body measurements
encourages exercise
Who is it for?
For users whose body dimensions may not allow them to use a standard commercial product.
---
Declan's story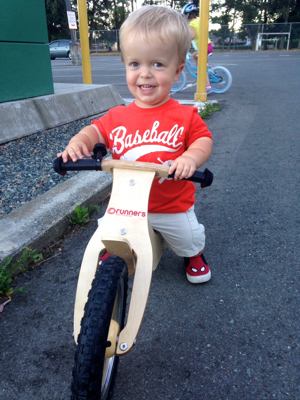 Declan is a sweet and active toddler who isn't able to participate in certain activities because of a genetic condition. Having Achondroplasia, a form of dwarfism, means the youngster's legs are shorter than usual, resulting in a range of mobility challenges.
His family hoped CanAssist could provide solutions that would help Declan enjoy an outdoor activity and participate in daily tasks in the home. Declan's mom, Tammy, is eager to keep her son interested in physical activity since any excess weight on his smaller frame would be very hard on his joints in the years to come.
To start, Alex Eberle, of CanAssist's engineering team, purchased a commercial wooden push bicycle and removed all the main components. He then designed two identical custom frames to match Declan's specific body measurements and line up with the wheels.
"Declan's new push bike has given him an outdoor activity to do while out with his big sister and family," Tammy wrote to CanAssist recently. "No longer is he restrained in the stroller like a 'baby,' but he's now able to physically participate in outdoor walks and bike rides just like the average preschooler."
Importantly, Declan has to work new muscles in order to hold the bike up, which has been helpful in increasing his upper body strength.
"Keeping active and keeping his body weight in a healthy range is something that will be important for Declan as he gets older though his body stays small," said Tammy. "This push bike is the perfect step in that direction."
Go to Top