Automated Stamper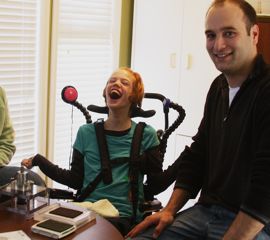 Katie Philip has a passion for creating greeting cards. And even though she's only 14 years old and starting her first year at Stelly's Secondary School, she has her very own company: karingcardsbykatie.com.
Katie has cerebral palsy, but with a vibrant personality to match her vibrant red hair, her condition does not keep her from actively selling her cards in the community – and donating the proceeds to the various charities that have supported her.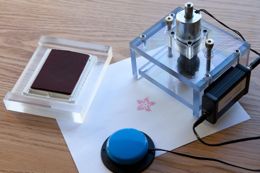 Katie is involved in the card-making process from start to finish, but the limited control she has over her hands has made it difficult for her to participate as fully as she would like. For example, one of Katie's favorite activities is stamping images on the cards; but to accomplish this, her mom, Sue, has had to provide hand-over-hand assistance. Recently, Sue followed the school's suggestion that she contact CanAssist to find out if we could create a device that would give Katie some artistic independence.
Mike Jackman, a member of the CanAssist engineering team, came up with an elegant mechanical design that enables Katie to initiate the stamping all on her own.
"A helper simply attaches a stamp chosen by Katie to the underside of the device and positions it on the paper in an appropriate location," says Mike (who is shown in the photo at the top of this page). "Katie then has complete control over when the stamp comes down onto the paper by pressing a large button next to her cheek."
The Automated Stamper is made of a clear durable plastic that supports a movable plate to which the stamp adheres. When Katie activates the switch, it causes the horizontal plate to lower quickly, forcing the stamp onto the paper. Once she releases the button, compression springs cause the plate to return to its starting position.
"We designed and fabricated a device that was completely compatible with all of the ink pads and stamping accessories she currently owned," Mike says.
Katie chooses the timing and speed at which the stamp comes down and, luckily for her, the device works with a lighting bolt kind of action, which is exciting for her to trigger.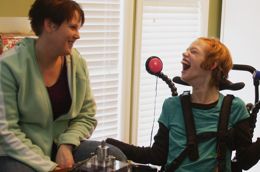 Her mom remarks on how Katie's enthusiasm for the device has inspired her progress.
"Tonight I was amazed at how she can control her switch in time with how fast I move the machine from the ink pad to the paper," Sue says.
"This stamper is going to do big things for Katie and the fundraising she does. Katie can't wait to get out to the community markets with her cards and share the news. She lights up when she uses her new stamper."
(This device was delivered in February 2011.)
Go to CanAssist's Video Gallery to view more technology videos.
Go to Top