Customized Hand Brake System for Wheelchair
For years, Gillian Croft has helped her daughter by pushing her wheelchair. Thirteen-year-old Jenna has cerebral palsy and vision impairments, and is not able to operate the chair herself.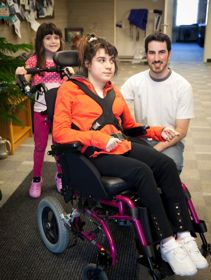 But as Jenna reached her teen years, Gillian became increasingly concerned about her own ability to maneuver the wheelchair safely at all times.
Gillian was finding sloped and wet surfaces particularly worrisome. The brakes on Jenna's current wheelchair are "wheel locks," meaning that the wheels are either at full stop or complete release. So Gillian came to CanAssist looking for a backup braking system that would enable her to better control the wheelchair's speed.
Mike Lewis, a co-op student with the CanAssist engineering team, took on the project.
Mike researched the market for commercially sold hand brakes only to find that the standard hand brake for wheelchairs would not fit Jenna's particular chair, which has an unusual frame, as well as a commode feature. So Mike had to create a customized hand braking system.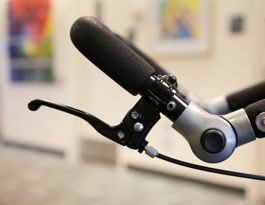 "This braking system uses a standard bicycle brake lever mounted to the handle on Jenna's wheelchair to control the brakes," Mike explains. "The brakes themselves each have a brake pad which presses directly onto the wheelchair tires to control speed."
The addition of a secondary braking system gives Gillian a feeling of control when she is out with Jenna. Now even the ramp at Thrifty Foods that was giving Gillian so much trouble before feels manageable.
"It is so much better than it was before – I love it!" she wrote to us recently. "Big hugs to everyone who worked on it!"
(This device was delivered in November 2010.)

Go to Top