Shuffling Gait Detector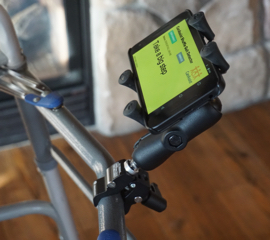 Key features
motion sensor attaches to leg
smartphone attaches to walker
system alerts the user to shuffling gait
helps user lengthen stride
Joe's story
Following a stroke, Joe's gait became unsteady. The gentleman would take increasingly small steps that would cause him to fall over - even when using a walker.
So CanAssist designed the Shuffling Gait Detector. This system includes a low-cost wireless sensor that attaches to Joe's lower leg and a smartphone with software that is able to detect and notify him when he shuffles.
As soon as Joe's footsteps become too small, the sensor activates an audio message that tells him to kick a small ball attached to his walker. By kicking the ball, Joe lengthens his stride. If he continues to shuffle, the system tells him to stop completely, then start again by taking a bigger step.
The Shuffling Gait Detector lets caregivers record personalized audio messages that prompt users to recover from a shuffling gait. The system frees up caregivers' time and eases worry by enabling an individual to walk more independently and safely. CanAssist believes this technology has the potential to benefit others with unsteady gaits, such as those with Parkinson's.
This technology was made possible from funding from the BC Ministry of Health.
Go to CanAssist's Video Gallery to view more technology videos.
Go to Top